The Affinity Group That Published the Underground Anarchist Paper, Alerta!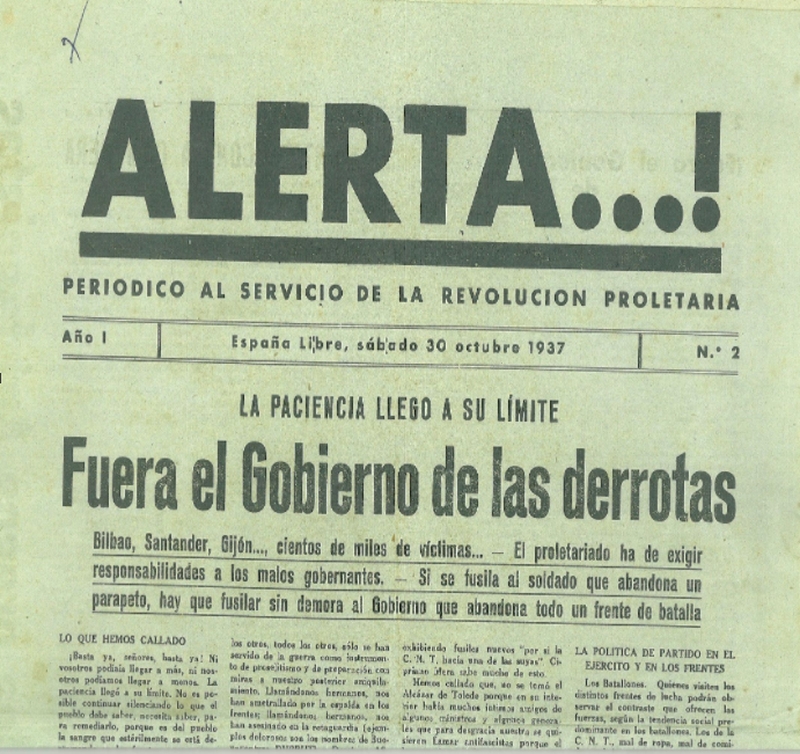 Everything interesting goes on in the shadows; of that there can be no doubt. Nothing is ever known of men's real history
Louis-Ferdinand Céline, Journey to the End of the Night
Background
In 2004 I read François Godicheau's outstanding article "Anarchist Underground Newspapers from 1937-1938: Voices of the grassroots militants?" published in the review Ayer (No 55, 2004). It was a ground-breaking piece and very well written and it impressed me greatly.
Through 2019, in the course of researching and drafting my book The CNT versus the IWA, […] I stumbled upon the close connection between the team that published Alerta! and the French critical anarchist publications Terre Libre and L'Espagne Nouvelle and how the contributors to them were aware of, quoted and sometimes commented upon articles carried by Alerta!; people such as Prudhommeaux and Voline, Attruia, Shapiro and others. Both of those French papers made no bones about their close ties to the Spanish revolutionary press and their intention of translating the most interesting articles appearing in Anarquía-FAI, Esfuerzo, Ideas, Ruta, Libertad, Alerta! and El Amigo del Pueblo.
In December 2019 I had a meeting in the café at the Caixa-Forum in Barcelona with Ángel Carballeira Mombrió and his sister, Gladis. Among lots of other things, they talked to me of the experiences and militant career of their father, Ángel Carballeira Rego. In March 2020, Ángel sent me a scan of the letter sent by Amador González to the Carballeira family following the death of Ángel Carballeira Rego's death. In that letter, dated 13 August 1963, there was mention of the launch of an affinity group made up of Amador González, Ángel Carballeira Rego, Daniel Sánchez García, José Rasal Castro and Alfonso Nieves Núñez and tasked with a specific mission: "One fine day in November 1937, we five pals made up our minds to do something to apply the brakes to the counter-revolution that was visibly imminent."
The questionnaire I later forwarded to Ángel Carballeira Mombrió was very extensively answered and he informed me that in the course of a meeting with Amador in Paris he had had the opportunity to explore and clarify a few points and he explained that the affinity group's task had been to ensure the appearance of the clandestine newspaper Alerta! (published in October-December 1937).
Here are the questions and Ángel Carballeira Mombrió's fulsome answers in which I would highlight Ángel's outstanding description and analysis of the discretion observed by those humble, efficient and nameless militants from the defence committees. The anonymity of the CNT membership was one of the greatest gains and achievements of the 1930s Spanish proletariat. The anarcho-syndicalist militant was a nameless revolutionary bereft of all egotism or personal ambition, occupying no post and with no career to advance.
However, from an historical point of view, such discretion has resulted ultimately in a well nigh absolute ignorance of how things worked and of the members of the nebulous format in which an affinity group was operating and coming together to make and throw their bombs, publish a newspaper, set up an ateneo or a rationalist school, launch a cooperative or a trade union, torch a tram and send it flying at full pelt down the Travesera de Gracia to the Telephone Exchange, call a strike, recruit defence cadres or raise a centuria … for no purpose other than fighting for short-term working demands or for a better world for one and all.
Hence the absolutely extraordinary character of the research of Ángel Carballera Mombrió who has successfully revealed and highlighted the importance and organizational historical novelty of such a nebulous association of anarcho-syndicalist militants.
Ángel Carballeira Mombrió's answers to Agustín Guillamón's questionnaire (E-mails from March 2020)
Foreword (by Ángel)
Even though at home there was never any difficulty about grappling with matters of anarchist philosophy, history, strikes and such, these were not the only things we talked about as both my father and my mother strove to develop our interest in broader culture: the sciences, literature, the arts and so on. Which is why, on many a Sunday, we would attend theatre productions (back then the libertarians had three drama groups operating in Toulouse) or visit museums and exhibitions. Whenever possible, during the summer, we would ride out on some bicycle outing into the area around Toulouse as organized by the Libertarian Youth.
As far as I was concerned there were three areas to be taken into consideration: engagement in public matters, involvement in grassroots militancy and the all but complete absence of the conspiratorial side of things. Besides, as I have pointed out already, the comrades back then were very close-lipped when it came to purely organizational matters of a certain significance, especially so when they touched on the conspiratorial side of things. So what I have to tell you is the things that I picked up directly or indirectly in conversing with the comrades with whom we rubbed shoulders (I reckon I was observant enough and had perfectly well realized that there were some things that I had to keep to myself and not put any questions) or with the few eye-witnesses aware of certain "courses of action", but who never felt that it was warranted for them to speak of such things in public.
What I picked up was fragmentary, for sure, and (if possible, which is not always the case) needs to be compared and contrasted with other sources. Nevertheless, having read certain accounts of matters that were touched upon in such exchanges, I reckon that these were often closer to fiction than history.
Let me respond to your questions:
1. Nieves Núñez (possibly Alfonso Nieves Núñez). In the 1930s he contributed to Tierra y Libertad. In March 1938 he was the administrator at Solidaridad Obrera. Or was the reference actually to a woman, a Nieves Núñez? On whom I can find no information?
When my father died and we got that letter from Amador González, I thought, on hearing the name Nieves Núñez, that it was a female comrade. When I met up with Amador in Paris, I asked him to clarify a few things in his letter. I cannot remember exactly what he told me but there are two points etched into my memory. Nieves Núñez was a male comrade. He was almost certainly Alfonso Nieves Núñez as that comrade worked at the Casa CNT-FAI. From other sources (Vicente Llansola and Antonio Alorda) I learnt that Alerta! was printed on the Casa CNT-FAI premises. Meaning that in spite of noises to the contrary, they enjoyed great connivance in the 'Casa' itself. From what I have heard, the top echelons of the CNT never got wind of this (despite their efforts).
The five names that Amador mentioned belonged to the comrades who, clandestinely, took the decision to publish that paper (albeit that he did not say so in his letter of condolence). Which is what prompted me to write Alerta! at the top of the letter from Amador which I forwarded to you earlier.
At the time, I knew absolutely nothing of the matter. It was only in the late 1970s when I and other comrade were working on newspapers archived by Renée Lamberet that we stumbled upon Alerta! that I made to connection between the letter and Alerta!
2. Ángel Carballeira Rego. Active in the Gracia groups. One of the founders of Alerta!
In the earlier editions of the Enciclopedia del anarquismo español, the entry under my father's name was brief and riddled with mistakes. Much later on, I pointed out those mistakes to some comrades like Eliseo Fernández and Rolph Dupuy who made some amendments.
3. Amador González (1907-1975). Active in the Marine Transport Union. FAI member. Took part in the storming of the Atarazanas barracks. Served on the defence committees' coordinating body. One of the founders of Alerta! Any idea what his second surname was?
No idea what Amador's second surname was. All I know is that in Paris the comrades in our circle held him in high regard. Comrade Juan Ferrer (who was director of our paper in Paris) wrote a very laudatory obituary for him but … as is usually the case, only those in the know could have understood it. I will forward it to you once I locate it.
4. Rasal (most likely José Rasal Castro). Metalworker. Active on the Gracia revolutionary committee.
Rasal was a close friend of my father and mother. He was definitely a significant figure in the Gracia district. After he fled to France, circumstances brought him to Marseilles and thereabouts. He died in 1947 in a work accident: a beam fell on his leg, causing serious bleeding and he later died in hospital.
I know for sure that he worked on an American base. He sent us several things at the time that made life easier: very good quality rope and other things that slip my memory … and, for me, a leather football (I remember the ball laced up at the side like they did back then) and probably something for my sister, but I do not recall what.
His partner settled in Perpignan where she opened a flower shop. His daughter Violeta is still alive. A few years back I contacted her but she was ill and could not remember anything.
5. Sánchez (most likely Daniel Sánchez García): a member of the Viñas FAI group in Barcelona
In a piece published in Tierra y Libertad in Mexico Marcos Alcón refers to Daniel Sánchez having died while on a mission for the organization. I do not have any details of that, but, according to the family, I think he died under torture in Barcelona prison. His brother, Eugenio Sánchez, whom we knew very well indeed, lived in exile in Toulouse and we used to see him very often at all libertarian movement meetings. As he worked as a dustman he used to supply us with fountain pens that folk had just dumped: we would then use them after a change of nib.
6. Were these five pals the Alerta! editorial team?
I think there was more to Alerta! than just an editorial team: it was an "underground" paper and it took more than just "writers" to produce it. It seems to me that only Nieves Núñez and Amador González, out of the five, had any journalistic gifts.
7. What was the Viñas group? Who was a member of the group? Was Viñas the secretary of that affinity group?
The Viñas Group – as it has come to be known these days (it being hard to hang a name of what was deliberately left nameless) can be regarded as supremely important prior to and after the revolution in the Gracia district and in Barcelona generally. In fact, comrade Viñas, a CNT militant from that district, was familiar to all militants on account of his commitment, gravitas and discretion. When comrades mentioned him they were unanimous in being fond of him. I do not think that the group actually had a secretary or anything of the sort … By the way, I remember that four or five years ago, at a lecture laid on by the Trotskyist group Smolny in Toulouse, they tried by hook and by crook to squeeze the CNT Defence Committees into the Leninist model of organization … of such stuff is history made!
According to Antonio Zapata, a militant active in the construction industry and in an Ateneo Libertario, the fact is that there were about ten groups in the Gracia district, each of them made up of about ten comrades ready to take a hand in clandestine and very often risky operations. No way were they structured the way that Trotskyist orthodoxy requires.
It seems to me that libertarian sensibilities back then did not sit well with that sort of 'conspiratorial' activism.
Viñas was definitely the oldest, most capable and obvious figure for coordinating matters, albeit that it was a different comrade that saw to it that those who could take a part in this or that operation were brought together. For instance, during the tram strike (which teetered on the brink of an uprising) in late 1933 and early 1934, Viñas definitely remained behind the scenes. According to a range of witnesses (Antonio Zapata, Antonio Alorda), it was my father, in cooperation with other very young comrades like Antonio Alorda, Luis Montblanc, Adell, Deu, etc., were the ones who made a success of the strike on that occasion.
The 'Viñas group' did come up with a number of initiatives such as manufacturing hand grenades. Which is how they came to set up a manufacturing workshop on the ground floor. This was almost certainly Viñas's idea as he was a machinist by trade. In addition to Viñas and Rasal, my father also worked in that workshop for a time. To give you some idea of how discreet these comrades were, when my father took a hand in this task, it was only later that my mother realized that he had changed job. In fact my father's clothing – he was a presser and dyer –stank of iron [steel] at the time, but my mother never asked him anything about his change of job, so my father never needed to tell her a lie (which he would have found hard to do). Discreet, eh? The Subirats family (Pepito, Pepita and her daughter Anita) lived in the same house (or very close by) and were perfectly well acquainted with those who dropped by the workshop, but they never asked them a thing and as far as they were concerned these were just neighbours. When, in the wake of the strike, my father had to slip away to France (to Béziers) for 10 months, where he ran into other comrades who were 'passing through' – Riera for one – or more settled types like Juan Labres – known as el Mallorca, who worked in the glass industry – who was serving as border delegate at the time; that comrade had attended the meeting at which the decision was made to set up the FAI in 1927). My father left for exile in France because there was a policemen on the Calle Muntaner tram who had been among his interrogators on one occasion and of course, they recognized each other! Comrade X (I do not know his name) took my father's place in the workshop. For some unknown reason, there was an explosion in which Viñas was killed, as was X himself. I do not have the date of the accident (the contemporary press may well have mentioned it).
My father never spoke of this and I only know it now because I was told of it by a few comrades and because I was tying up some loose ends and worked out a rough chronology. The was a nebulousness around these activities with several more or less involved comrades floating around, getting together for a specific task but not for all tasks. Let me mention a few who would drop by the house: there was Salvador Sarrau who was on the scene when the Calle Muntaner tram was set alight (not that he ever told us who was involved; he told us nothing, given that as he was a close family friend my sister Gladis looked after him to the end of his days); there was the comrade known as el feo (Ugly). I think I may be able to discover his name and I will let you know. He was, I seem to recall, a locksmith – he lived in Castres – and he was the one who took of the task of making the plates for the hand grenades.
Another member of the 'group' was comrade Constancio Durban who worked as a bricklayer and who hid Durruti and Asaso for a time. He later moved away to Puigcerdà because his ailing son needed the mountain air. There he was definitely the borders delegate and played a very important role.
Another comrade from the group – Urbano Odena (known as el Urbano) I never got to meet as he left for exile in New York and he worked in Barcelona as a baker. He was definitely in it up to his neck because he used to correspond with my father. Durban and he also travelled up to Marseilles to pick up a batch of weapons.
Other male and female militants dipped in and out of this nebulous arrangement. Take for instance Miguel Alba who did the bricklaying work on an arms dump in a dye-works based in Gracia. Comrade Teresa Margalef (a very close family friend like her partner Juan Ronchera) was one of those who went to and from delivering and taking away "laundry". There was another comrade nicknamed el Cubano (I think his name was González) and he too was part of the nebula. And of course there were lots and lots more men and women.
A few observations (by Ángel)
On the basis of this we have to offer a few observations at least:
The part that these male and female comrades played has not gone down in the historical record. They wanted to do and did all they could to stay below the radar … and in terms of the historical record, they have pulled it off! You can check them out in the Enciclopedia del anarquismo iberico: but the mentions, when there are any, are very curt.
Besides the comrades who were connected with the most clandestine activities, there was a pretty sizeable nebula that took a hand in this or that activity. In the end it was the trade union militant who was paying his dues and directly sustaining the Defence Committee (a percentage of his dues went to it and, by dint of that, the union was able to wield a sort of "remote control").
Depending on his/her inclinations, opportunities and engagement, every militant had a variety of ways of taking part in whatever he thought was required for the emancipation of humanity and that was the option on offer. First, the comrade could impact on the work scene through his union and then could engage in quiet, fraternal relations with individuals (the ateneos, the schools, the outings, the conferences, the popular culture, etc. are good examples of this) and finally, if need be he could take part in specific groups – propaganda, publishing newspapers, publishing books … and also in the action groups tasked with building up the workers' powers of self-defence. But it strikes me that it would be a mistake to believe that those groups were organized along military command lines. That would have meant that the enemy had won since the working class would then have been thinking and operating just the same as a military command.
They were a perfect fit for the life of the district: there they were like fish in water. Sometimes, with the police on their heels, they were able to find a hiding place easily right there in the barrio and very often were harboured by families that did not even belong to the

CNT

.
I imagine that that modus operandi was much harder for the repressive agencies of the state and employer institutions to monitor and infiltrate. Evidence of this is the fact that very little data exists on the subject.
The Enciclopedia anarquista ibérica has this to say about Alerta!: "Barcelona 1937, five issues. Underground anarchist newspaper linked to the Friends of Durruti." Whilst my father did have ongoing relations with some members of the Friends … such as Ponciano Alonso (aka Mingo) who was based in Bordeaux and occasionally with Pablo Ruiz (based in Paris), I do not think that there was any organizational connection between the "Alerta! group" and The Friends of Durruti. I remember that in some conversations with old comrades, I heard them (Salvador Sarrau, Julio Patán, José Peirats, Manolín, etc.) agreed that the move made by the Friends of Durruti was an unfortunate mistake. They reckoned that the fight needed to have been waged from inside the movement. At least that was how Marcos Alcón posed it in an article in Espoir (20.7.1975) entitled "Remembering 19 July 1936. Were they right or not" I am not taking sides but the belief that just because you are "against" the

CNT

's and

FAI

's representative bodies you are, ipso facto, in the opposite camp may be a misapprehension into which a lot of historians are prone to slip.
The civil war period also signalled an institutionalization of the revolutionary (the card-carrying

FAI

) an some Defence committees lost the essence of their clandestine and 'nebulous' character.
End of text by Ángel Carballeira Mombrió.
Agustín Guillamón's conclusions
Ángel (junior)'s answers are emphatic, detailed, enlightening, exemplary and irreplaceable. They speak to his personal and family experiences in the context of nameless militants used to keeping mum, used to not asking questions that could only be answered by deplorable lies, silences or recklessness.
The notion of a 'nebula' model binding together these affinity groups is something unearthed by Ángel Carballeira Mombrió in his response to my questionnaire, something that we need to digest and circulate, because it offers an apt and highly original anarchist organizational model that is often misconstrued and which differs entirely from the syndicalist model and is entirely opposed to the Leninist and/or militaristic model.
We need to bear it in mind that this 'nebula' model, viewed from the outside, was wrapped in a dense cloud that screened off what was happening inside it, not to mention who was on the inside and what he was doing. Viewed from the inside, that nebula represented a sealed off world of tried and tested militants, a sea of opportunities and a network of social and personal relationships that encouraged the emergence of affinity groups that came together in order to tackle specific tasks (from bomb-making, planning actions or strikes, setting up a cooperative, supporting a rationalist school or ateneo through to the setting up, writing, printing and distribution of a newspaper or leaflet and the widest spectrum of activities which, once mounted, entailed the break-up of that affinity group). It may perhaps be redundant to add that the nebula model supplied the various groups emerging from within it an unquestioning complicity and support that enhanced the operational capabilities of those small groups. Everyone knew everyone else and there was a strict militant anonymity that informers and the police could not penetrate, but which was perfectly transparent and effective in the context of the militant relations in place inside it.
Alerta!
The underground paper of the defence committees in Catalonia. The affinity group that ensured its appearance, contents and distribution was made up of Amador González, Ángel Carballeira Rego, Daniel Sánchez García, José Rasal Castro and Alfonso Nieves Núñez. Seven issues were printed between October and December 1937. The paper was printed and distributed out of the Casa CNT-FAI itself, to the huge displeasure and concern of the higher committees which could not discover where it was being printed and they failed to prevent its circulation.
It was even distributed on the Andalusian front, most likely thanks to Alfonso Nieves Núñez's connections and links with that front.
Alerta! had nothing to do with the Friends of Durruti. Whereas the latter were calling for a change in the CNT leadership and putting forward a brand-new revolutionary program, all of it (in the eyes of the nebula of militants) tending towards a clean break with the organization, as if they reckoned that their critical stance place them outside of the Organization, the affinity group publishing the underground anarchist paper Alerta! was out to expose Stalinist repression, defend revolutionary prisoners and criticise collaborationism, but at all times from within the bosom of the CNT-FAI organization, with no inkling of any sort of split and it was very faithful to the slogan: criticism, yes: split, no.
The Friends of Durruti engaged in factional activity, pushing for a split and even devised a new revolutionary program: the group behind the publication of Alerta! pursued a dogged internal criticism that was very hard on the CNT leadership but always stayed within organic and organizational boundaries.
Whereas the Friends of Durruti were already operating outside of the Organization, the Alerta!-publishing group did so on the basis of the defence committees, pushing a very radical criticism, but with no prospect of going for a clean break. Hence the different treatment received from the higher committees which doggedly pressed for the expulsion of the Friends of Durruti whereas they sought to turn the (armed) defence committees into (unarmed) coordinating and intelligence groups.
More starkly, the higher committees insulted the Friends of Durruti by labelling them marxists and they lobbied to have them expelled from the Organization on the basis that their critique and program placed them outside of the CNT-FAI pale already: whereas the malcontents from the defence committees who were producing Alerta! could make do with an activity that kept them busy and made them feel like they were doing something useful.
In both instances, the higher committee's ability to embrace and repress was stunning. For the Friends of Durruti, it meant ostracism, isolation and attempts to have them expelled. Whereas the militants from the defence committees were pinned down locally, identified, there were mass petitions raised in the barrios to have them disbanded and above all there were brand-new operational functions to keep them busy on other tasks. The first edition of Alerta! appeared on 23 October 1937. The consistent content of the paper related to solidarity with "revolutionary prisoners" as it insisted that they be released and denounced the conduct and abuse coming from the stalinists and republicans in the Modelo Prison: criticisms of collaborationism and of the politicization of the FAI; denunciation of the Negrín-Prieto government's disastrous war policy and of the Stalinist predomination within the army and the state. It sent out messages of solidarity to the Libertarian Youth and the Friends of Durruti Grouping.
One unforgettable feature of the publication was its relentless calls "to make the revolution" and for the higher committees to step back from all its posts: "The Revolution cannot be made FROM THE STATE, only AGAINST THE STATE" [in "Today we say …" in Alerta! No 2 (30 October 1937)].
No 4 was dated Saturday 13 November 1937. The front page carried an inflammatory editorial sounding the alarm about the War's and Revolution's being in jeopardy: "We need to storm the ministries and throw the ministers from the balconies. Ministries are the dens of traitors."
Alongside that editorial there was a short note, all in capital letters, revealing the name of the murderer of the twelve young libertarians tortured, mutilated and disfigured at the Karl Marx barracks; their corpses were dumped days later on a bend on the Cerdanyola road.
"The killer of the Sardañola comrades.
Remember Sergeant Zapatero? He was the man in charge at the 'Karl Marx' barracks when, during the baleful events in May, provoked by the PSUC, the twelve comrades from Sardañola were found murdered and horribly mutilated.
These days Sergeant Zapatero is a sergeant no longer; he is a lieutenant-colonel and commands the Disciplinary Battalion made up of those detained in Montjuich."
As to the truth of this report, we cannot say, but it is plain that only Alerta! dared to print the name of the man responsible for the slaughter of the 12 libertarians tortured and shot at the Karl Marx barracks.
In the final edition, dated 4 December 1937, there was a denunciation of the Stalinist chekas and the brutal persecution of CNT personnel in the Cerdanya. The paper ceased publication on foot of a decision made at a gathering of delegates from the Barcelona barrio committees, in response to the pressures and arguments coming from the Local Federation of Anarchist Groups regarding the need for a unified press, whilst standing by the threat to resume publication should the new CNT press not meet its requirements in terms of unvarnished truth and deferred instead to unspeakable political commitments. On quite a few occasions, family, friendly or working relations provided cover for revolutionary activist and affinity-based relations.
The group that ensured that Alerta! was published
To get a handle on what the newspaper Alerta! was like, we need only read the outline biographies of the team that supported its existence, provided the copy, printed and distributed this underground mouthpiece of the defence committees.
Amador González. Born in León in 1907. Relocated to Catalonia while very young and there he joined the Marine Transport Union, the FAI and the defence committees. In July 1936 he was involved in the storming of the Atarazanas barracks. He served in the Durruti Column. He took on the task of local coordinator of the defence committees in Barcelona city. And played an outstanding part in the street-fighting in May 1937. Between October and December 1937 he helped publish the clandestine mouthpiece of the Defence committees, Alerta!
He stepped down as defence committees' coordinator in January 1938. In March 1938 he served as the delegate from the National Transport Union.
In February 1939 he was placed in the Argelès concentration camp (France). He took part in the anti-Nazi resistance; they held him prisoner for four years until he was freed by the Resistance.
In September 1946 he was arrested in Irun with Antonio López and they were both subjected to torture and imprisoned by the Francoists. In French exile he was active in Saint-Denis and Paris.
On the death of Ángel Carballeira Rego, he wrote to the family of the deceased, revealing the names of the group that oversaw the underground anarchist paper Alerta!, without actually disclosing what their actual part was in the paper's publication. The letter also remarked on the discretion that usually was observed by the exiles regarding their past and current activities, not just as a basic precaution against repression but by way of second nature as all revolutionary fighters were imbued with modesty and anonymity. He died in Aubervilliers on 3 April 1973 following a heart attack while travelling on the metro.
Ángel Carballeira Rego. Born in Villalba (Lugo) on 9 March 1907. From a farming family. At a very young age he relocated to Cuba, where he spent his youth, from 1916 to 1929. He trained as a dyer. When his health broke down, he returned to Spain at the age of 21. Drafted into the army for a year, he was assigned to a punishment battalion in Tetuán. By 1930 he was in Barcelona. A member of the CNT's Dyers' Union. He was active in the Gracia defence committees and FAI. He got involved in an affinity group led informally by Viñas and devoted to manufacturing bombs for use in the tram strikes that erupted in 1933 and which were also used in the 1934 uprising.
On several occasions he was arrested and beaten by the police. He served as delegate from the Gracia district's defence groups. In 1933 he was jailed in the Modelo for his part in the 8 January revolt. The 12 April edition of La Vanguardia recorded that Severino Campos and Ángel Carballeira had been freed from the prison. He played a very active role in the late 1933-early 1934 tram strike. He fled to Béziers for ten months to avoid a further arrest. Working as a dish-washer and picking grapes.
During the civil war, he served on the Gracia revolutionary committee and held positions of responsibility in the collectivization of the dye industry sector.
He served in the Durruti Column. From October to December 1937 he was part of the affinity group that ensured publication of the underground anarchist paper Alerta!, the mouthpiece of the uneasy defence committees that identified with the many imprisoned anarchists, aiming to oppose the counter-revolution that was under way, expose the Stalinist repression and the politicking collaborationism of the higher committees. Once in exile in France, he was placed in the Le Vernet and Maseras concentration camps. In 1944 the gendarmerie handed him over to the Todt Organization which sent him to work on the construction of the Atlantic Wall. Together with Mariano Sorinas he escaped from the Mont Marsan camp.
Some sources link Carballeira with the action groups, especially those of Josep Lluis Facerías in 1947 and Ramón Vila Capdevila in 1949: this resulted in his being jailed twice in France.
In 1948 he was a FAI delegate at the Toulouse plenary backing José Borrás and resisting Laureano Cerrada's arguments.
In 1951 he was elected on to the CNT secretariat with responsibility for the fight against Franco. At the time he was one of the few to suspect that Jacinto Guerrero Lucas might be an infiltrator. He worked as a bricklayer in the Haute Garonne department for many years.
From 23 August to 3 September 1961 he attended the reunification congress held in Limoges, where he was re-elected as Coordinating secretary of the Inter-Continental Secretariat. He was usually classed as a esgleista.
On 22 July 1962 Ramón Vila Capdevila (Caraquemada) was behind three explosions that occurred between Suria and Sallent, toppling three power supply pylons and leaving the Manresa-Sabadell area blacked out for two days. This was an operation coordinated by Llansola and Carballeira from within Defensa Interior.
His wife, Eulalia Mombrió Prats, a worker in the silk industry, was from Barcelona; she was active in the CNT's Textile Union and very active in the Ateneo in Gracia. They had three children.
He died of cancer in Toulouse in July 1963, quite possibly a result of his line of work.
Daniel Sánchez García. Active in the Construction Union. Distinguished himself in the incidents in Tarrasa on 15 February 1932. Sentenced to four years in prison. In December 1933 he took part in an unsuccessful attempt to escape from the Modelo prison. By 1937 he was active in the anarchist group led by Viñas.
José Rasal Castro. Active in the defence committees in Gracia and a member of the Metalworkers' Union. Served on the Gracia revolutionary committee. Close friend of Ángel Carballeira. Hunted down and jailed by the Stalinists. Exiled in France, he worked with the CNT's Maugnane branch. He died in 1947 following a work accident after a beam fell on his leg, causing fatal injuries.
Alfonso Nieves Núñez. Born in Buenos Aires in 1908 of Spanish parents (his mother was Galician and his father Andalusian). When he was aged 8, he retuned to the Cordoba area. Earning his spurs in the peasant struggles in Bujalance. Up until the age of 24 he worked as a book-keeper. He was active in the CNT and an outstanding public speaker and journalist. He specialized in legal and political defence of imprisoned CNT personnel and in the building up of a wide network of Prisoners' Aid committees.
In 1931 he was caught up in the failed plan to print the newspaper Tierra y Libertad in Córdoba as part of a team that also included Aquilino Medina and Pedro Algaba.
Despised by the landowners and employers in Andalusia; they tried to have him expelled and banished from Andalusia. In May 1931 he held a rally in Almodovar del Río alongside Jose Castejón.
In November 1931 he was a prisoner on board the prison hulk Antonio López anchored off Barcelona. On 19 Mach 1932, from the Modelo prison in Barcelona, he signed a manifesto against Ángel Pestaña.
Seizing upon his Argentinean nationality, the Spanish republican authorities deported him to France. After some time in France where he wrote for the anarchist press in Bordeaux and Lyon, he returned to Catalonia using the alias of Miguel Jiménez. During the spring and summer of 1932 he held successful rallies in a range of Catalan towns and less successfully in the Córdoba area. And contributed to Tierra y Libertad.
In 1933 he was fined frequently for his journalism in a range of papers or given prison sentences by way of punishment for press offences. And was jailed in Seville and Barcelona of several occasions. In the Modelo prison in Barcelona, where he had already served a year and a half, he had around forty outstanding charges to face; at the rate of a year for every press offence, he was facing a very lengthy prison term.
In November 1933 he went on hunger strike. And that December took part in an attempt to break out of Barcelona prison. By early 1935 he was in Campo de Gibraltar and by the end of year was living under the radar in Palma de Mallorca. He struck up a firm friendship with the Mallorcan anarchist Cristóbal Pons, in whose home he found a haven for a time. From January 1936 on he was overseeing Cultura Obrera, the mouthpiece of the Balearic CNT, using the alias Julio Quintero. Holding rallies in the Balearics, Catalonia and Andalusia.
In July and August 1936 he surfaced as coordinator of the militia columns from Bujalance and Castro. And led the column that attacked Baena. By early 1937 he was in Linares.
On his return to Catalonia in May 1937 he played a prominent part in the street-fighting on the Gran Vía and Paseo de Gracia and around the headquarters of the Control Patrols. And was an eye-witness to the death of Domingo Ascaso.
Between October and December 1937 he was part of the affinity group that saw to the publication of Alerta!, the defence committees' underground mouthpiece.
He had earned himself a degree of fame through his defence of Rafael Peña Garcíra in his clashes with the CNT National Committee. And served on the Legal Commission from January 1938.
Given his huge experience as a newspaper editor, he was appointed in April 1938 by the Libertarian Movement of Catalonia's Executive Committee as administrator of Solidaridad Obrera, taking a number of drastic actions to sort of the record of dire financial management left by Toryho before him.
He left for exile in Paris, failing to secure a passage to America.
Conclusions
The higher committees had an enormous capacity for shepherding within the Organization. In January 1938 the defence committees were offered the opportunity to don disguises and carry on as coordinating, intelligence-gathering and espionage groups, although they were stripped of their brief as the armed forces of the revolution.
The revolutionary minorities were extremely weak and mounted fitful internal revolutionary opposition against the

CNT

-

FAI

's committees. The Alerta! group never considered a clean break with the Organization.
Only the Friends of Durruti offered themselves as a revolutionary alternative to the higher committees, with their own original program replacing the

CAMC

from July 1936 which was thought of as a class collaborationist body, with a Revolutionary Junta supplanting the Generalidad government. Even though the Friends of Durruti never ruled out a break with the

CNT

-

FAI

Organization (something unthinkable for the Alerta! Group). However, the Friends of Durruti never brought up a split by way of a weapon of struggle and a clearing of the decks.
The nebula model of libertarian organization conjured up affinity groups that were usually short-lived and which set themselves a specific target (be it the manufacturing of bombs and their storage or the production of a newspaper or the founding of an ateneo or cooperative or rationalist school) and which then, successful or not, would melt back into the nebula, asking for no acknowledgment and seeking no political or trade union careers, fading into the most close-lipped anonymity and silence. Charlatans, opportunists or upstarts could not survive within the nebula because they would be instantly rejected and shunned. Not just on security grounds, but on that basis too.
The higher committees knew how to channel and steer this nebula model to suit their own purposes. If they needed to set up a critical underground paper such as Libertad to serve to let anti-collaborationist anarchist let off steam whilst at the same time offering some competition with El Amigo del Pueblo, or to provide the pretext upon which to shut down Alerta!, they did not shrink from encouraging and tolerating it. If they needed to provide the defence committees with a measure of organizational continuity in an underground espionage organization, the requisite coordinating and intelligence-gathering bodies would be set up.
The war-time shifts in the Organization's program and tactics had implications for the

CNT

-

FAI

's organizational structures.
The extraordinary nature of the historical circumstances as well as the urgency in the decision-making prevented the Catalan

CNT

from operating along horizontal, assembly-based lines. Between 23 July 1936 and June 1937, the Organization was led by a Committee of Committees. And between June 1937 and March 1938 by the

CAP

(Policy Advisory Commission). In the interim, in July 1937, the

FAI

was turned into just another antifascist party capable of furnishing and training the bureaucrats needed to take up posts of responsibility and command Finally, against the backdrop of rout and collapsing fronts, the elitist, self-appointed Executive Committee of the Libertarian Movement of Catalonia led the Organization along dictatorial and hierarchical lines from April to October 1938, with no prospect other than the militarization of workplace and society, in addition to the Organization itself.
Agustín Guillamón
Barcelona
Adapted from two articles by Agustín Guillamón 'El grupo de afinidad que editó el periódico anarquista clandestino Alerta…!' in Libre Pensamiento 110 (Spring 2022). https://serhistorico.net/2022/08/20/el-grupo-de-afinidad-que-edito-el-periodico-anarquista-clandestino-alerta/ and the second part of 'La "Nebulosa" como fórmula organizativa ácrata' https://kaosenlared.net/la-nebulosa-como-formula-organizativa-acrata/ (May 2023)
[A translation of the first part of 'La "Nebulosa" como fórmula organizativa ácrata' is at: Distinguishing Between Defence Groups, Affinity Groups and Action Groups https://www.katesharpleylibrary.net/h44kvv ]
Translated by: Paul Sharkey.