Ricardo SANZ (1898-1986)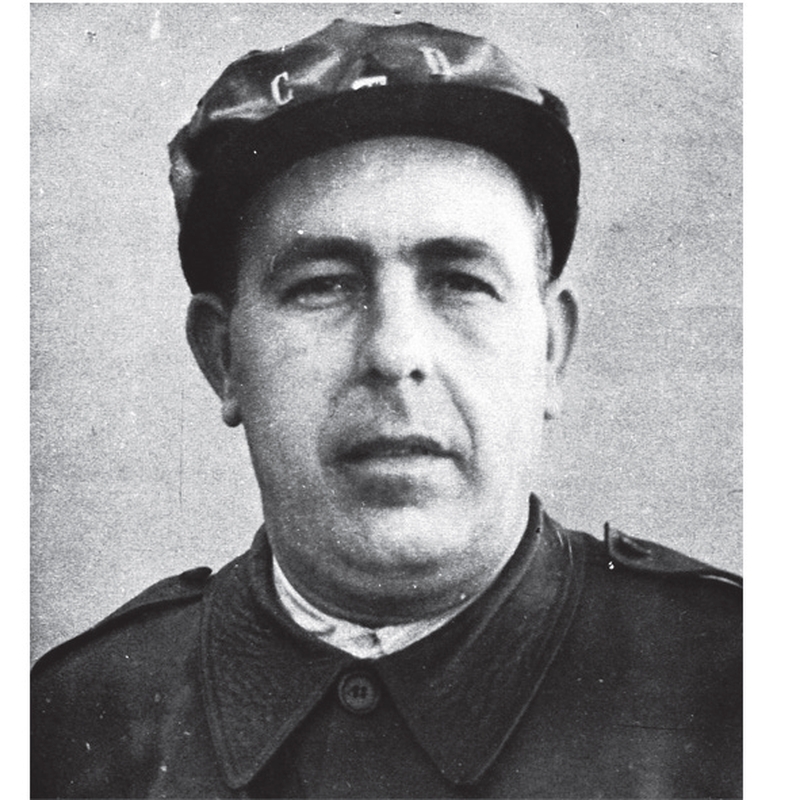 A labourer in the textile and amalgamated trades sectors, a syndicalist activist and anarchist, Ricardo Sanz Garcia was born in Canals in 1898, a member of an impoverished Valencian peasant family that led a life that was primitive and fraught with deprivation. At the age of eighteen he moved away to Barcelona where he was harboured by some relatives who were living in the Pueblo Nuevo working class barrio. He found work in the Waterworkers' Branch (of the Textile Industry) and joined the CNT's dye-workers' union.
He became a personal friend of Pau Sabater aka el Tero, the president of the dyers' union, who was murdered and maimed by the employers' gunmen on 19 July 1919. On 5 September 1919, CNT action groups avenged Sabater by assassinating Bravo Portillo, the Barcelona police chief, former German spy and the man behind the state terrorism directed at the CNT on the direct instructions of Captain-General Milans del Bosch. The death of the despised Bravo Portillo was celebrated in every working class district of Barcelona. In 1920 Ricardo Sanz fled to his native village in the wake of an attack on Graupera, chairman of the Dyers' Employer Federation. Ricardo Sanz had served on the dye-workers' strike committee.
In 1922 he had a hand in the founding of the anarchist Los Solidarios group along with Durruti, García Oliver, Francisco Ascaso and others. The group came to number about 20 members, aided and abetted by a wide network of collaborators and informants that facilitated and made their actions feasible, not just in Barcelona but throughout Spain.
In 1923, Ricardo Sanz and other Los Solidarios members organized a Regional Anarchist Liaison Committee, a bona fide forebear of the FAI. In September 1923, Primo de Rivera mounted his coup d'état. That October, Los Solidarios were buying weapons and ammunition in Eibar. Ricardo Sanz oversaw a cache of bombs in a warehouse in Pueblo Nuevo. But in the end the police noose tightened on the group and Los Solidarios were forced to scatter and leave the country. On 24 February 1924, on the express instructions of the Minister of the Interior, the secret police murdered Gregorio Suberbiela and Manuel Campos, both of them members of the Los Solidarios group. On the very same day, Aurelio Fernández and his brother Ceferino and Adolfo Ballano had been picked up in Barcelona. Aurelio and Ceferino were transferred to Gijon to be tried for holding up the Banco de España branch in that city. Aurelio managed to escape from Zaragoza prison in November 1924 and fled into exile in January 1925.
Attacks in Vera de Bidasoa and on the Atarazanas barracks in Barcelona resulted in further deaths and arrests. García Oliver was arrested in Manresa and given a 7-year prison sentence. Alfonso Miguel was in and out of prison under preventive detention orders.
By 1925, Durruti, Francisco Ascaso, García Vivancos and Aurelio Fernández – all of them Los Solidarios – were living in exile in Paris.
Ricardo Sanz was taken into preventive detention in Zaragoza, having moved to that city in order to deter and apply pressure to witnesses in the case against Francisco Ascaso (who was on the run), Julia López Mainar, Salamero and Torres Escartín (who was facing the death penalty), accused of the murder of Archbishop Cardinal Soldevila of Zaragoza, a prominent fascist and chaser after nunnish skirts (monjeriego).
In 1925, Ricardo Sanz was arrested in Eibar where he had been trying to retrieve the arms bought back in 1923 and he spent 26 months behind bars in Madrid where he made the acquaintances of José Romero, Mauro Bajatierra and Inestal. Eduardo Barrioberro was his lawyer and friend. He was released in 1928 and remained dormant until 1930 when he resumed his trade union activism during Berenguer's Dictablanda.
He helped resurrect the CNT Construction Union. Clambering up a streetlamp, he harangued the striking construction workers in the presence of mayor Joan Antoni Güell who, interviewed alongside him in his offer later, was damned by him for his uselessness and his utter ignorance of what lay behind the strike. At the end of a rally called by the Prisoners' Aid Committee, he declared that construction workers were now on a general strike.
Since the time when he might have served as chairman of the Construction Union had expired, he stood in the Shopworkers' Union elections in an effort to counter the influence of the Worker-Peasant Bloc (BOC).
In April 1931 he helped Garcia Oliver in the latter's efforts to form defence cadres. At the June 1931 CNT congress he represented the Shopworkers' Union and spoke out. He clashed with the treintista moderates, dismissing them as "The Thirty Judases" in a pamphlet of that title published by La Protesta in Buenos Aires. In March 1932 he served on the CNT National Committee, arguing the case for insurrectionist tactics and mounting numerous propaganda tours throughout Spain.
Along with other Los Solidarios comrades, he set up the Revolutionary Committee that oversaw the January 1933 uprising by the CNT. That same year he published his first book, Ruta de Titanes, an extraordinary novel on the criminal harassment of Barcelona workers by Martínez Anido and Arlegui; it had a foreword by his friend Isaac Puente.
In the months leading up to the beginning of the civil war he worked in the Water Sector which put the finishing touches to clothing items leaving the weaving workshops; such work was easy and well paid and attracted all sorts of "undesirables" reduced to starvation by the employers' various blacklists, but which did not apply in the Water Sector. Francisco Ascaso, Durruti, Gregorio Jover, Dionisio Eroles, Aldabaldetrecu, Aurelio Fernández and others also worked in the textile sector.
He took part in the street-fighting during the uprising on 19 and 20 July 1936, especially in the Pueblo Nuevo barrio where he lived and was very well known, up until García Oliver demanded that he show up with a load of dynamite charges for the attack on the Atarazanas barracks.
For four months he took on the responsibility for raising and organizing the Popular Militias from the Bakunin (Pedralbes) barracks.
He was Inspector-General of the Aragon front up until, in the wake of Durruti's death, he was entrusted with command of the Durruti Column militians serving on the Madrid front.
In May 1937 he was in command of those same militians returning from Madrid and Játiva to the Aragon front, upholding discipline and a questionable neutrality in the face of the street-fighting that was raging. Troops under Ricardo Sanz's command were billeted in the Docks barracks on the Avenida Icaria, a mere 150 metres from the Karl Marx barracks held by the Stalinists from the PSUC, who were relentlessly harassing them. His daughter Violeta was born on 1 January 1938: six months after that his partner Pepita Not died. In Soli, Juan García Oliver published a heartfelt obituary. In May 1938, under his command, the 26th Division secured all of the goals entrusted to them in the 11th Army Corps's general offensive against Aragon, capturing the villages of San Ramón de Abella and Bastús, taking 900 prisoners from the Navarra Brigade and capturing a thousand rifles and several machine-guns and cannons. On 14 August 1938 he was promoted to Lieutenant-Colonel. He used to brag about working alongside General Pozas and Colonel Perea to prevent the Army of the East from being turned into a Communist Party army.
In February 1939, he crossed the French border in perfect military order via the international bridge in Puigcerdà, in charge of the 26th Division which itself crossed the border via La Tour de Carol and Llivia. He was interned as a "refugee" in the Le Vernet camp along with hundreds of his men and was appointed camp commandant. During the summer of 1939 he was at liberty, caring for his two sons and rebuilding his private and family life.
On 24 October 1939 he was interned for a second time in the Le Vernet concentration and punishment camp as an "undesirable alien" and he remained there until 12 July 1942 when he was dispatched to Port Vendres to catch a ship that put him ashore in the port of Algiers, from where he was shipped on to the Djelfa labour camp in the middle of the Sahara desert. During his time in Le Vernet he drafted his pre-civil war memoirs and attended the burial of his 18 year-old son Floreal, with a gendarme for an escort. Foreal had fallen ill in Bonnae, a village just two kilometers from the camp. But he had been denied leave to visit Floreal. His memoirs, entitled Los hijos del trabajo (The Sons of Toil) was date-lined Le Vernet camp, September 1941, but did not see publication until 1976 when it was published by Ediciones Petronio in Barcelona under a different title: El sindicalismo español antes de la Guerra civil (Spanish Syndicalism prior to the Civil War). In 1944 he returned to Paris. In 1945 and 1946 Ediciones El Frente published his pamphlets on Buenaventura Durruti and Francisco Ascaso, under the shared title Figuras de las revolución española. He settled in Golfech where he had a house with a hectare of cultivable land some 90 kilometers outside of Toulouse. He worked five days per week in a chemical plant in Toulouse, relocating to his Golfech house for the weekends and living there with his new partner, two new sons and his daughter Violeta.
In 1966, at his own expense, he published, in Toulouse, El sindicalismo y la política. Los 'solidarios' y 'nosotros' (reptinted by Ediciones Descontrol in 2013) and, in 1969, Los que fuimos a Madrid. On 23 April 1975 the historian Ronald Fraser interviewed him in his Golfech home.
In 1976 Ediciones Petronio published his memoirs as El sindicalismo español antes de la Guerra civil and in 1979 they published Figuras de la revolución española which, besides offering broader and updated versions of his pamphlets on Durruti and Ascaso included biographies of Pestaña, Segui, Jover, Peiró and his first partner, Pepita, among others. Ricardo Sanz died on 25 October 1986.
Agustín Guillamón
From Biografias del '36 edited by Paolo Casciola and Agustín Guillamón https://descontrol.cat/portfolio/biografias-del-36/
Translated by: Paul Sharkey.