Remembering Diego Camacho AKA Abel Paz
Listen, listen - he said to me. - We might tear down churches and aim to banish the Catholic church from people's minds, but we don't intend to turn the ateneos into replacement churches or anarchy into a religion (From Abel Paz, Viaje al pasado)
Diego Camacho Escámez (aka Abel Paz) was born in Almería (Andalusia) in 1921 before moving at the age of six to Barcelona to live with an uncle of his who was active in the CNT.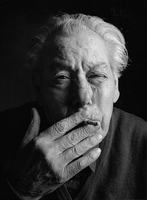 In 1932 Diego joined the Escuela Natura (a libertarian educational establishment that followed Francisco Ferrer) in El Clot, a working class quarter in the Catalan capital. He joined the Libertarian Youth in 1935 in Almería where he stayed with his mother (a CNT member) up until February 1936 when he returned to Barcelona.
There he joined the FAI and the CNT and was active in the El Clot defence group and helped launch the 'Quijotes de la Ideal' group which opposed the CNT-FAI leadership's moderate policies. After he was arrested in May 1937 (during the confrontation between the anarchists and the Stalinists) he tasted life in the farm collectives, wrote for Tierra y Libertad (the FAI mouthpiece) and took part in the armed struggle on the Catalonia front. In January 1939 he was one of the hundreds of thousands of Catalans and Spaniards who fled Barcelona and sought asylum in France. He found work there for a time and in 1942 embarked upon the underground struggle, crossing the Pyrenees. He was jailed by the Francoist police and spent five years shuttling from prison to prison, just for having tried to refloat the CNT. After a few months at large he was arrested again, for having taken part in a Libertarian Youth meeting and spent five more years in Franco's harsh prisons. On his release in 1952 he, like many another anarchist, resumed his underground activity and in 1953 was appointed by the underground organisation as its delegate to the IWA congress. He then stayed in France and carried out a short, unfortunate mission inside Spain on behalf of the Defence Commission.
With his partner Antonia Fontanillas (from a historic anarchist family; they lived together until 1958) he moved around a number of French cities and took part in numerous meetings and activities in several libertarian quarters ranging from the Libertarian Youth and CNT through to anti-Francoist youth groups. In the 1960s he embarked on the writing of his long (and thus far the most comprehensive) biography of Durruti and a series of historical books. He returned to Spain in 1979 on the back of the resurgence of the movement and threw himself into efforts to boost its quality as well as its numbers. Despite some disappointment, he stayed south of the Pyrenees and carried on with working on his own lengthy personal memoirs covering 4 volumes.
He was one of the few elderly militants to constantly engage and communicate with upcoming generations of libertarians to whom he passed on his bitter reflections on the past sweetened with an incorrigibly critical but also purposeful mind.
In 1995-1996 he took off on a lengthy tour of Italy, addressed around forty public meetings in response to the interest generated by Ken Loach's Land and Liberty which he regarded as very sound and stimulating.
In his tiny apartment in the working class Gracia quarter of Barcelona, throughout the 1980s and 1990s he welcomed the hundreds of comrades dropping by just to meet and converse with him. Despite his recent physical decline he continued to follow developments in the movement and to supply facts and observations for use in a number of videos and books. In short, death overtook him while he was in the full flush of activity.
[Diego Camacho AKA Abel Paz, August 12, 1921-April 13, 2009.]
From: Umanità Nova, 16 April 2009.