The action groups hardly anybody talks about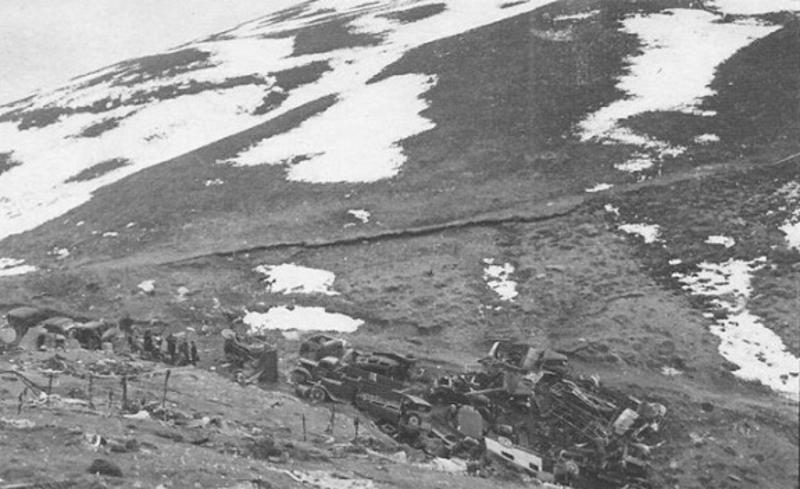 A quick tour of some of the lesser known anarchist action groups, bands whose names are less familiar. We know only a few of those who belonged to them and little of their adventures and misadventures under the Francoist yoke. Today, a look behind the scenes of the guerrilla war … […]


Sorry to say it, but what I have to offer today will not provide much cause for smiles. Like everything, it has its good points and its bad. The good thing is that today we are going to rescue a number of groups and men from the darkest, most out-of-the-way recesses of oblivion. These folk are very little known, and nameless and a far cry from the big names of legend, but they did fight and most of them fell, just as the Sabaté brothers, 'Pin el Cariñoso' or Bernabé López Calle did. And there you have the down side to this article, that we are about to add to the list of the fallen, disappeared and jailed, whilst there are very few of whom it could be said that they "lived high on the hog and dined on partridges" […]

The first thing I have to tell you is that there is rather little, not to say no information available about the majority of the groups we are going to be talking about today. That applies also to graphic materials, except for the odd press clipping or a few snapshots. But we shall not let dearth of information, or the difficulty of obtaining it, deter us. […]

Let us get right down to business and begin with a group that I have never heard mentioned nor seen any written reference to. But our source is reliable – I'll say! – as it is none other than Antonio Téllez. Téllez rescued the anarchist guerrilla war from oblivion and kept at it until the day he died. When he did die, he was in the throes of writing a new text that he had already entitled Tinieblas y sangre (Darkness and Blood). In that anthology of unpublished jottings, he reported on a range of libertarian guerrilla groups, but focused primarily on the widespread police infiltration into the committees in exile and their treachery.

The group in question, little known and nameless, was made up of Valeriano Giménez Poma (b. in Panticosa, Huesca, 12 September 1923), Amador Rodríguez Quince (b. in La Felguera, Asturias, 7 April 1924), Pedro Galán Mora (b. in Callosa de Segura, Alicante, in 1912), and, lastly, José Martínez García (of whom all we know is that he was born in 1924). These comrades crossed the border via Hendaye in late December 1949, albeit that their fate and purpose is unknown. It might not be out of place to remind ourselves that in Barcelona just two months earlier the Francoist repression had wiped out several action groups. Nothing more was ever heard of the four comrades in question after they had crossed the Bidasoa river. Neither by the CNT of the Interior nor José Pascual Palacios in exile, the man in charge of infiltrating personnel into Spain.

Right. So let us move on with out gallery of unknowns, albeit that we are sure that some elderly male or female militant might remember the men of whom we are about to speak. We come now to José Abad Palacios and his people. Again, information about this group is hard to come by, other than José Abad Palacios's own 31-page text "Comisario Rafael", setting out his record in the civil war, the anti-Francoist resistance and subsequent exile. Aside from him, the only other name we have is one of his comrades, his inseparable companion José Andreu Seano aka José María Navarro; together they trained and set up action groups, carrying out attacks and sabotage raids. At the instigation of the Catalan Regional Committee in exile, they were to attempt to set up the 1st Division of Confederal Guerrillas.

Their theatre of operations was to be primarily Barcelona and the group survived from 1944 through to early June 1947 when, due to the ferocious repression and a number of captures nearby, they decided to cross over into France with two members of the Regional Committee and two of the organization's guides. They crossed the border on 15 June 1947.

To continue with this unknown aspect of the libertarian guerrilla war, who were these who come next? Now here we come across a classic example. Unknown guerrillas (albeit not in every case) but guerrillas charged with one of the major missions of the libertarian conspiratorial set-up. The effort to assassinate Franco. As we learn from one of those involved in that effort, the Aragonese Joaquín Marcén Azón, the would-be assassins' group was smashed after one of its members, Manuel Gálvez Carrasco aka Sevilla was picked up. He had previously been active in the highlands of Aragon, as had another of those implicated in the failed assassination bid, Gabriel Cruz Navarro aka Madriles. That pair and Joaquín Marcén were accompanied by two further names … Gonzalo Calleja de Lucas and Enrique Pérez.

The weaponry was brought in from France from the dumps built up during the resistance to the Germans. From 1947 onwards, they were being transported to Madrid via Zaragoza. On 27 December 1947, Gabriel Cruz Navarro was picked up and within days the police arrested Manuel Gálvez in Madrid's Carretas cinema. After that, things picked up speed. At the subsequent trial two death sentences were passed on Sevilla and Madriles, whilst the other three members of the group were sentenced to 12 years and a day in prison. Manuel Gálvez took his own life in prison whilst Gabriel Cruz served out a lengthy sentence.

As for the next group, all we have is a newspaper clipping. Do a search for their names on the web and it'll be like Donald Trump on climate change: there is nothing there. Fortunately, the police sources decided to congratulate themselves and released one of their reports. La Vanguardia published it on 29 December 1949, that being an atrocious year as far as the guerrilla war was concerned. The report mentioned the arrest of a group that had come down from France on forged papers, arriving with the intention of rebuilding the CNT and carrying out sabotage attacks, armed robberies and outrages. The group had been caught in possession of several handguns with the respective ammunition, and a dump had been discovered near Torelló. The individuals arrested were Diego Giménez López, Eugenio Pascualena Lafuente, Julia Pérez Clemente and Alejandro Simó Serra. Brought to trial in 1950, they faced summary procedure before the first named was sentenced to 45 years, Alejandro and Eugenio to 20 years and one day, and the sole woman involved, Julia, to 4 years, 2 months and one day in prison.

To finish with these little-known groups, let us turn to what I will call the 'Col d'Ares' group. Given that we do not know who was in charge of it, nor any other name they may have used, I have chosen to call it after the location at which they crossed the border on 13 February 1947.

The group was made up of four people – Manuel Castrillo Santiesteban, Juan Puig Grau, Antonio Hernández García and one other comrade of whom nothing is known.

A hunt for the group was launched after a report made to the army post in Camprodón and it was tracked down shortly after noon, whereupon a firefight erupted in which Manuel Castrillo was killed and Juan Puig and Antonio Hernández wounded and, later, arrested. Tried in 1950, they were given sentences of 12 years and a day. The fourth guerrilla managed to escape and withdrew to France.

The group's mission had been to import a batch of weapons and papers handed over to it by "Domenech"; these were bound for the Trianon cinema in Barcelona.

And that is as far as we have got in this, our first visit to the men with no names.

El Salto, 17 November 2020 https://www.elsaltodiario.com/ni-cautivos-ni-desarmados/aquellos-grupos-de-accion-de-los-que-casi-nadie-habla [Image: Col d'Ares, Republican military material adandoned during the retreat of 1939, Imanol]

Translated by: Paul Sharkey.