Georgette Kokoczinski (la mimosa)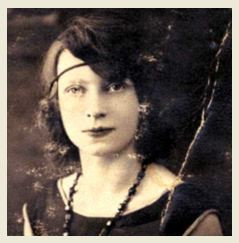 The anarchist militant Georgete Léontine Roberte Kokoczynski aka Mimosa was shot dead on 17 October 1936. She had been born on 16 August 1907 in Versailles (Ile de France) into a middle class family. She carried the surname Brivadis from her mother Léontine Brivadis and in 1908, after she was acknowledged by her father, Robert Ango, had a claim to his name as well. At the age of 16, unable to get on with her parents any longer, she left for Paris where she was taken in by André Colomer and his partner Magdalena who introduced her to libertarian ideas. She frequented the cabarets in Montmartre and was attracted to show business and poetry. In 1925 she set up home with the anarchist Fernand Fortin and belonged to the "Éducation Sociale" group set up by Fortin in Loches, [in the area around Tours] which is where she began taking part in rallies and festivals. In 1928 she returned to Paris and using the stage name Mimosa was part of a theatre group that added colour to libertarian meetings and festivals in the area through singing, poetry readings and staging dramas. She also attended the libertarian meetings of the La Revue Anarchiste, [which produced a supplement called "Matters Spanish",] her partner Fortin being its manager. At around this point she qualified as a nurse. On 7 November 1931 she married the French socialist journalist Miecsejlaw Kokoczinski who was a member of the XIV Parisian branch of the French Section of the Workers' International (SFIO) and took his name.
On 28 August 1936 she attended a rally in the Salle Wagram in Paris in support of the Spanish Revolution and made up her mind to get more directly involved. On 18 September 1936, she set off to fight in the Spanish civil war and enlisted in the Durruti Column's International Group. Dispatched to the Aragon front, she and the German anarchists Augusta Marx and Madeleine Gierth looked after the infirmary and the kitchens. Georgette Kokoczynski died on 17 October 1936 in the battle of Perdiguera (near Zaragoza in Aragon) alongside other nurses and dozens of foreign volunteers, [including the French activists Roger and Juiette Baudard, Yves Vitrac, Bernard Meller, Jean Delalain, Suzanne Girbe, Louis Recoulis, Rene Galissot, Jean Albertini, Jean Giralt, Raymond Berge and Henri Delaruelle.] The details of her death are not known, but it appears she was captured by the Francoist troops, then shot with some male comrades and, certain witnesses maintain, her corpse was burned in a barn. According to Antoine Gimenez's recollection, she had been captured along with Augusta Marx and both women, naked and disembowelled, but still alive, had been thrown into the front lines where a comrade put them out of their misery. In May 1937, in a tribute to her, a French-speaking group from the FAI in the Gracia barrio of Barcelona (Fortin was a member) took the name Mimosa. [On 19 July 1937, a tribute to Mimosa was handed out: it was, written by Mujeres Libres member Kyralina (aka Lola Iturbe).] In her article about Mimosa, [Iturbe wrote, concerning the battle of Perdiguera in which the Durruti Column's International Group sustained heavy losses: "Among the international fighters was Georgette. Initially the attack was a success, our militians reaching the outlying houses in the town by surprise; but after that they were completely encircled. Durruti issued orders for them to withdraw but these could only be partly implemented for some very substantial rebel cavalry forces were deployed. Fifty fighters who would not be coming back were left on the streets of Perdiguera. One bunch, made up of French, Italians and a few Germans ensconced itself in a house and resisted. For as long as they had any grenades and ammunition they held the rebel attacks at bay. When these ran out, the rebels closed in on the house and called upon those under siege to surrender; otherwise the building would be torched. No one agreed to come out. Every single one of these heroes was burnt to death, Georgette among them. She was 27." Iturbe also wrote in 1937 about the manner of Mimosa's death: "There are several versions of what happened. According to certain prisoners […] she was shot by the fascists along with three other comrades from the expedition. According to the War Health Committee's version she was shot and her corpse tossed into a barn that was then set on fire by Franco's men. We may never know the precise details of her death, for the nearest witnesses were far from the scene of the tragedy. One thing is certain: she was murdered by fascists in an atrocious fashion. Such was the end of Mimosa […]"] Georgette Kokocyznski kept a diary during her time in Spain and it was discovered after her death. It was copied by Fortin and is preserved at the International Institute for Social History in Amsterdam.
Translator's note
The bits in square brackets have been added by me, lifted from an outline on the website of the publishers of Antoine Gimenez's memoirs of the war in Aragon and from the notes to that book, Les Fils de la Nuit: Souvenirs de la guerre d'Espagne (2006)
From: http://puertoreal.cnt.es/es/bilbiografias-anarquistas/2698-georgette-kokoczinski-la-mimosa.html. Translated by: Paul Sharkey.