The Gómez Talón Group, One of the Earliest Guerrilla Groups Operating in Barcelona in 1939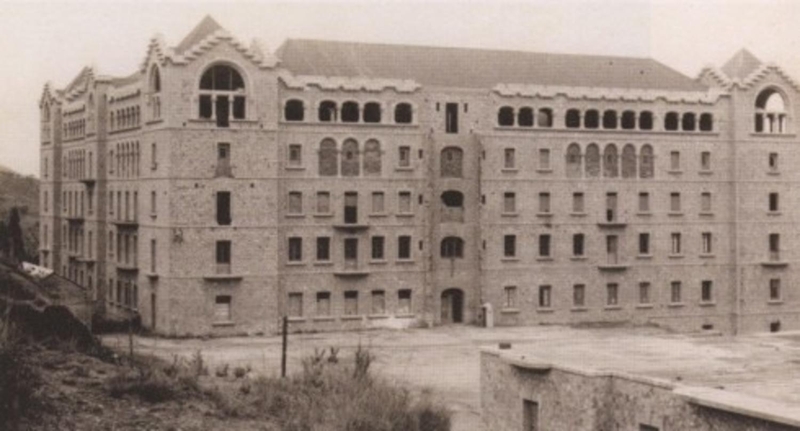 The chief mission of the Gómez Talón group was to free comrades from the various concentration camps around Barcelona
Hello, readers. Here we are a further month along in our pursuit of the guerrilla war. Today's piece may come as something of a surprise – for me more than for you – as I thought I had written it a long time ago. Not so. Reviewing the dates and operations we hold for a sweeping project on the libertarian guerrilla war in Catalonia, in conjunction with colleagues also working on the topic, I found that I was mistaken. I am always on the look-out for unknown groups and the upshot is that I occasionally overlook the known ones.
So let me set the record straight and set to it. Today's entry will be a classic as we will be travelling back to Barcelona to trace the footsteps of one of the earliest resistance groups operating in Catalonia. And when I say one of the earliest, I mean that we are travelling back to 1939. And so, without further ado, allow me now to present the Gómez Talón brothers' group. The story goes back to the winter of 1939. The republican army was beating a retreat, with Francoist troops snapping at its heels as they all drove for the French border. Barcelona had fallen without a fight and hordes of civilians and servicemen were out to save their lives by heading for nearby France. As we have stated on lots of occasions, the reception offered our countrymen by the French authorities left a lot to be desired. The lucky ones dispersed around the country as best they could, but most of them finished up in concentration camps.
Meanwhile, what was happening in the Spain that they were leaving behind? Well, something akin to what was happening in France. Prisons and concentration camps for the half of the population that had just lost its war, its belongings and its hopes of change. But added to that there was torture, systematic execution and Falangist malice.
February 1939 saw the creation in Paris of the Libertarian Movement General Council, led by Mariano Rodríguez Vázquez, who, together with Juan Manuel Molina, set to work to try to rescue as many people as they could from the camps on both sides of the borders. One of their first moves was to get Francisco Ponzán and his people out of the Le Vernet camp. These had served with the SIEP (Special Long-range Intelligence Service) and his group specialized in operations behind enemy lines, in terms of intelligence-gathering and peddling disinformation, as well as people-smuggling or sabotage operations. South of the Pyrenees too, escape networks for evacuating the most imperilled membership were starting to take shape.
In Lunel, near Nîmes, there was a first meeting between delegates from the Spanish interior and members of the General Council. It was held in the home of guerrilla Juan Bautista Albesa aka Batiste. The outcome disappointed the hopes of the delegates from the Interior, but at least things and people were on the move.
One of the movers was Francisco Ponzán. One of the very first groups set up and dispatched to Barcelona was the one made up of Salvador López Talón and José Tarín Marchuet. A number of other comrades went with them, including one of the Ponzán group's guides, Pascual López Laguarta. Their mission was to free comrades being held in prisons and camps around Barcelona, including Salvador's own brother, Rafael.
On 21 June 1939 the group crossed the border and headed for Barcelona. On arrival there, its members turned their attention to various matters. They monitored the sentries and removals from the Horta concentration camp and the hemp factory in Poble Nou. They got their hands on some army and Civil Guard uniforms and sought out come comrades from the Printing Trade Union in order to start forging seals and documents. To that end they made contact with Mario Marcelino Goyeneche, a printer from the Calle del Carmen and with Manuel Benet Beltrán, a professional engraver, who set about forging seals and stamps from the District IX Falange headquarters, the office of the deputy mayor, the Horta concentration camp and the Civil Guard. They were setting prisoners loose using phoney release or transfer orders, one of the beneficiaries being Salvador's brother, Rafael.
As ever, all of these 'strokes' cost money, so the group turned to fund-raising raids. That August, the Gómez Talón group carried out a hold-up in the Calle Bailén, then held up a taxi in the Calle Girona before robbing another taxi river in the Calle Mallorca before a third taxi-driver was robbed on the Rambla de Cataluña. There was also a raid on the 'La Inglesa' biscuit factory on the Calle Horta and a number of people were helped to escape. But whenever you repeat the same action over and over, unforeseen circumstances can arise. On one occasion the group's members raised suspicions in the guard who called upon them to halt and made to frisk them, at which point a ferocious shoot-out erupted in which Sergeant Antonio Garrido López was wounded and private José López Hernández killed.
After that they changed their approach. They kept watch on prisoner transfers and their itineraries and began to raid the odd van to free the precious cargo of convicts.
Naturally, these events alarmed the Francoist authorities and they did not take long to respond. On 7 September 1939, the Gómez Talón brothers were rounded up in Barcelona, as were Juan Baeza Delgado, Pascual López Laguarta, Mario Marcelino Goyeneche, Alfonso Martín González, Manuel Nebot Beltrán, Juan Pallarés Mena, Fulgencio Rosauro Martínez, siblings José and Dolores Tarín Marchuet, Juan Tarrazón Hernando and Rafael Valverde Cerdán, among others.
Four days after that, these captives were hauled in front of a council of war and the following members of the group – Rafael and Salvador Gómez Talón, Juan Baeza Delgado, Juan Pallaríés Mena, Fulgencio Rosauro Martínez and José Tarín Marchuet – were executed the very next day by firing squad in the notorious Campo de la Bota.
In addition to these executions, Alfonso Martín González received a 30-year prison term; Rafael Valverde and Pascual López got 20 years, although the latter managed to escape from prison and go back to working with the Ponzán group. Other lesser sentences were handed down as well.
From El Salto, 28/02/23 https://www.elsaltodiario.com/ni-cautivos-ni-desarmados/uno-primeros-grupos-guerrilleros-actuo-barcelona-ano-1939
[Image: Horta concentration camp, source: Imanol]
Translated by: Paul Sharkey.