The Liverpool Anarchist Group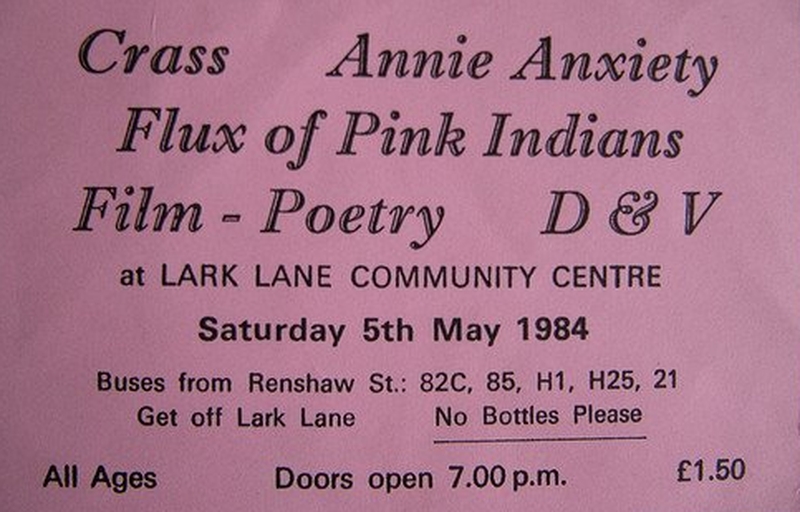 The following history of anarchists in Liverpool in the early 1980s is based on oral interviews, writings from the Kate Sharpley Library and contemporary news articles. Like most history it should not be seen as the final word, and due to who we interviewed and our own politics, it has a clear bias towards class struggle anarchism.
The Liverpool Anarchist Group (LAG) started in April 1982, after a member of the Direct Action Movement (DAM) placed an advert at the News from Nowhere bookshop. LAG initially met at the News from Nowhere bookshop and in people's homes, before meeting at the Mitre, and then the Philharmonic. Membership was informal: if you regularly attended you were considered a member, and there were no subs, with whip-arounds to cover costs.
As a broad church, people joined LAG from a variety of perspectives, although many had not previously been involved in lefty/student politics. There were of course anarcho-syndicalists from DAM, but there were also people coming from the non-violent, direct action wing of the peace movement after being involved in groups like the Campaign for Nuclear Disarmament (CND). Animal rights activists, including Hunt Saboteurs, had a strong presence, and in St Helens the anarchist group was involved in the Animal Liberation Front. One interviewee remembered people who had been involved in the libertarian Marxist group (and paper) Big Flame, while another remembered people with "strange ideas" about paganism and witchcraft. This eclectic mix of perspectives was reflected in their varied activity, but would eventually lead to tensions and a splinter group.
The LAGs first activity was leafleting a CND march in Preston. LAG also protested the Youth Training Scheme's military links by picketing the Army Careers Offices. They took part in the first Stop the City protests in September 1983, which were intended to disrupt the financial and military system. Around 1,500 from across the country travelled down to London to take part, where many (including members of LAG) were arrested for taking direct action such as blockades, attacking fur shops, glueing building locks and jamming telephone lines. The LAG also took up the cause of Katsuhisa Omori (an Ainu indigenous rights activist), who had been convicted of a bombing which caused two deaths, but which many believed was a politically motivated frame-up by the Japanese state due to flimsy evidence. The LAG regularly leafletted to highlight his case, and two members delivered a letter about it to the Japanese Consulate in the Wirral.
One particularly important affair for the development of class struggle anarchism within the LAG was the Messenger Dispute in Warrington. The media baron, Eddy Shah, had sacked 8 printers in July 1983 for going on strike at Stockport. They subsequently started picketing the printworks at Warrington, but secondary picketing had recently been made illegal. The peak of this dispute was the Battle of Winwick Quay on September 29th. A mass picket of over 4,000 workers was brutally attacked by police and private security, numbering around 2,000. The police had riot gear and attack dogs, and used tactics they had developed in the 1981 inner city riots. Despite this the picketers fought through the night, using bricks, bottles, stones and barricades to defend themselves. The leadership of their union played something of a contradictory role, having been fined for openly defying the law, but simultaneously opposing the use of self-defence and arguably sabotaging the dispute. Their defeat proved that the restrictive new trade union laws could be enforced, and was a training ground for police who used similar tactics to attack miners during the Battle of Orgreave in 1984. The pickets were primarily attended by supporters, many of whom were bussed in by the trade union movement. Some members of the LAG regularly attended these pickets, fought with the police, and were present (and some injured) at the Battle of Winwick Quay. The whole affair acted as a catalyst for the development of a new anarchist group with decidedly class struggle politics: the Liverpool Direct Action Group (LDAG).
As new, younger members joined the LAG from working class backgrounds, dissatisfaction grew. One of them told us that he felt that the majority of the LAG were from "lower middle class" rather than working class backgrounds*. He felt some of them were "middle class people flirting with anarchism before moving onto careers." He had a sense that most of their politics were irrelevant to his lived experience, and that the trendy punk scene fed into "lifestyle anarchism". Another member of the LAG who joined the LDAG, seemed less sectarian about it, but felt that groups should be more focused, and that there were some right-wing sentiments within the LAG. He also stated that the LAG had become something of a talking-shop, and a recruiting ground for the Hunt Sabs. These disaffected and primarily working class members went on to form the LDAG in 1984. The LDAG were very focused on supporting strikers, as well as anti-fascist action. One member recalls attending pickets at Phillips Rubber in Manchester, another remembered demonstrations in support of the Militant Council not implementing cuts, but their main focus was on the great 1984-1985 Miners' Strike.
Members of the LDAG attended demonstrations and pickets, as well as spraypainting, flyposting their own posters and leafleting in support of the miners. The union's strike fund was eventually exhausted, and their dependents were denied welfare payments. The LDAG joined miners in raising money to survive (and stay out on strike) through door-knocking on council estates and collecting on Church Street in the city centre, as well as independently organising benefit concerts and jumble sales. Some members also got involved in local miners' support groups. One member of the LDAG also delivered supplies and toys to miners at Christmas time.
Anarchist activity also existed outside of these groups. Three issues of a local anarchist paper were produced, initially called 'Renegade', and then 'Agitator'. The DAM's paper, 'Direct Action', was also distributed. At the time the humorous 'Class War' paper was sold in Liverpool and one of its founders, Ian Bone, spoke in the city prior to its release. While Class War had members in Liverpool, their presence was never particularly notable.
At the time anarchism was growing partly as a side effect of the popular punk scene, especially due to anarcho-punk bands such as Crass, Poison Girls and Chumbawamba. LAG actually recruited members through leafleting a Crass gig in May 1982. In 1984 Crass also raised funds for the Miners' Strike at a gig in the Lark Lane Community Centre. There was also a local cultural and musical initiative called "The Black and Red", which held regular gigs at the same venue in 1984, and then the Mitre, but came to an end in 1985. They ran benefits for various causes such as the "Merseyside Peace Bus", News from Nowhere, the LDAG and Parkside Miners.
For a period of time the general LAG and the class struggle focused LDAG co-existed, with some overlap in membership. Over time the LAG fizzled out, and in November 1984, with only really LDAG members still involved, they called it a day. One member felt that the LAG had never really developed beyond being a discussion group. Another broad anarchist group with the same name was formed later in the 1980s which helped to run the Mutual Aid Centre (a squatted social centre) and published 32 issues of the 'Merseyside Anarchist' newsletter, which continued until 1991. From their inception the LDAG had links with DAM (a national anarcho-syndicalist group), but were separate, even if their similar names sometimes caused confusion. However, more and more members of the LDAG joined DAM until it became a branch of the latter. They continued to be active under this banner for the rest of the decade. The DAM eventually went on to change its name to the Solidarity Federation, which still has a presence in Liverpool, although there is no continuity to the 1980s group.
* While we respect this interviewees' views, we feel the need to note that as editors we view working class politics as having less to do with people's backgrounds and upbringing, and more to do with whether they are workers/tenants/claimants or bosses/landlords.
From https://liverpoolanarchist.wordpress.com/2022/07/07/the-liverpool-anarchist-group/ (where there are pictures)