Bastard, Elisée Joseph Michel aka 'Francois Pichancourt'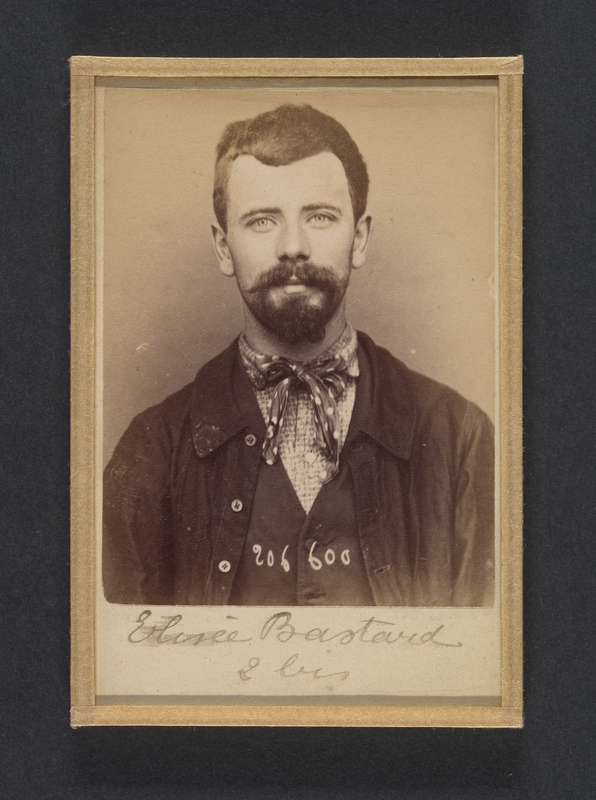 Born in Bornel (Oise) 20 January 1871 – Polisher – Saint Denis (Seine Saint Denis) – London
On record as an anarchist in August 1893, Elisée Bastard who had previously lived in Villeneuve-la-Garenne and then on the Rue du Canal in Saint Denis, was brought before the Assizes in 1891. He was regarded as 'very militant, given to moving around'. On 19 February 1891, at the time of the drawing of lots* in Saint Denis, a number of anarchist comrades, of whom Elisée Bastard was one, had mounted a noisy demonstration, shouting 'Down with the fatherland! Long live anarchy!', as a result of which he was prosecuted on 23 March that year along with Arthur Voyez, Nestor Ferrière, François Collion, Henry Decamps, François Pernin and Charles Galau. Bastard had previously been convicted of stealing a joint of meat from the butcher's at which he was working.
In the autumn of 1892, he was mentioned as living in New York (at 108th Avenue, West Street 76).
On 29 October 1893, at a meeting held at the trade hall to protest at the execution in Spain of Paulino Pallas and with regard to what Léauthier had done, Bastard had turned to the superintendent present at the meeting in these terms: 'They tell me that we have a superintendent flanked by three goons in this hall. If he has come here to hear us out, then get this: let me you offer you a bit of good advice: when you get back to your office this evening, give the table a good kick and curse your lousy profession; and revert to living like a working man, like us.' Then, before ranting against the bourgeoisie, he had also incited the journalists present to stop writing their lies and closed by saying 'You journalist swine, try to make a good fist of your calling as informers!'
On 1 January 1894, at the time of the clampdown in the wake of Vaillant's attack on the Chamber of Deputies Elisée and his father, Joseph, had his home searched and the police seized various anarchist pamphlets, but had let the pair walk free. Elisée had escaped the February 1894 raids during which nearly 2,000 militants had undergone searches and arrests throughout France and he had been declared 'on the run'.
According to Rudolf Rocker who was living in Saint Denis in 1894 and who had been introduced to him by Jean Wollmann, Bastard was then 'one of the best known orators at that time and an excellent comrade'. In August 1894 Bastard was implicated in the Trial of the Thirty, a rag-bag of anarchist theorists (19) and common criminals [or 'illegalist' anarchists](11). He, like most of the accused, was acquitted and fled to London. In the 1890s his name appeared on the list of anarchists drawn up by the railway police, with an eye to monitoring the movements of such militants.
He may be the same Bastard who had been arrested in 1893 with another 4 comrades, including Roussel, whilst putting up posters near Maurice Barrès's private hotel and who came to blows with members of Barrès's staff eager to tear down the posters. Barrès had brought a complaint against them accusing them of having tried to ransack his hotel. At the trial in the autumn of 1893, Bastard, and Roussel, had been let off with just a 50 franc fine.
In the 1920s, the police had him living in Paris on the Rue Pia (20th arrondissement). It was alleged that he was using the name François Pechancourt (or Pichancourt).
Note
*This refers to the selection of conscripts by random selection.
From https://militants-anarchistes.info/spip.php?article7753. Image by Alphonse Bertillon from https://www.metmuseum.org/art/collection/search/306644
Translated by: Paul Sharkey.