Roberto Ambrosoli, 1942-2020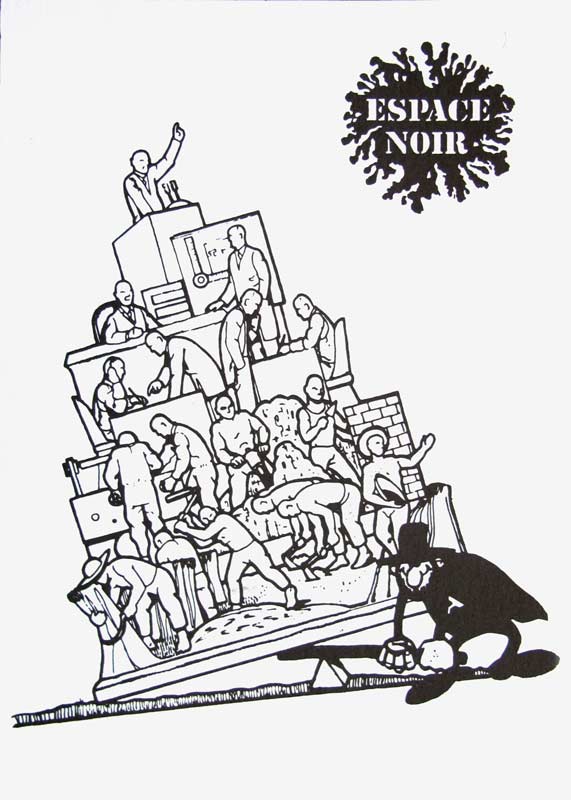 The Kate Sharpley Library are sad to report the death of Roberto Ambrosoli, anarchist and creator of the cartoon anarchist Anarchik.

Not Just Anarchik By Paolo Finzi
Roberto Ambrosoli, arguably the first Italian anarchist to die of Covid19 in April 2020 at the Mauriziano hospital in Turin. Born in Milan in 1942 he lived there up until his teenage years. It was at secondary school that he met and became fast friends with Amedeo Bertolo and together they took part in a demonstration outside the Hungarian consulate in Milan in solidarity with the Hungarian people in revolt against Stalinist repression in 1956. Theirs became a lifelong friendship. Roberto then moved to Naples with his parents before settling in Turin. In the 1960s, along with Gerard Lattarulo and a few old hands he helped keep the flame of anarchism alive there. In the late 60s he got involved with the GGAF (Federated Anarchist Youth Groups) which then became the GAF. The GGAF/GAF spawned the A rivista anarchica, Antistato editions, Eleuthera editions, the Centro Studi Libertari/Archivio Pinelli, the four-language Interrogations review, the Comitato Spagna Libertaria, providing the editors for Volonta and then the magazine Libertaria. Roberto was particularly keen on the socio-political and economic analyses of the GAF which identified a new ruling class, the techno-bureaucrats or "new masters" and were alert to other novel forms of domination.

(edited from A rivista anarchica May 2020. A further article about him is promised in the next edition of A rivista anarchica.)

Roberto Ambrosoli, 1942-2020 by the Centro Studi Libertari, Milan
7 April 2020 saw the death of Roberto Ambrosoli. The history of the Centro Studi has been closely connected with him.

Born in Milan in 1942, he lectured in agrarian micro-biology at the University of Turin and his career as an anarchist started out in the late 1950s alongside Amedeo Bertolo; in the 1960s Bertolo and he founded the Federated Anarchist Youth Groups (GAAF), which later became the Federated Anarchist Groups (GAF). Again with Bertolo, he took part in a range of publishing projects – Materialismo e libertà, A rivista anarchica, Interrogations, Volontà, Antistato publications and was one of the founders of the Centro Studi Libertari/Archivio Giuseppe Pinelli. A karate master, he was tireless as a cartoonist and was especially known as the creator of the renowned Anarchik, enemy of the state, a character replicated by anarchist cartoonists internationally. A tireless translator for Edizioni Elèuthera – his translations included texts by Chomsky, Murray Bookchin, Colin Ward, Scott, etc. – he was also the author of many essays carried by the anarchist press, especially by A and by Volontà. In more recent times, after a few decades of silence, he started producing Anarchik cartoons again, but in the interim Anarchik had aged, like his creator. It is fitting that we should salute him with one of his character's most famous phrases: "We shall do our worst, Roberto!"

From centrostudilibertari.it/it/Roberto-ambrosoli-1942-2020

Supplementary info from a phone interview Ambrosoli gave to www.doppiozero.com for its edition of 24/11/19
Anarchik first appeared as an unnamed character in a cartoon drawn for a leaflet handed out by the Milan branch of the GL (Libertarian Youth) back in 1966. The character then resurfaced in Il Nemico dello Stato magazine in 1967 which is where it first uttered its catchphrase "I shall do my worst!"

"The full text was, if memory serves 'I shall do my worst said the anarchist, vanishing into the darkness'".

Ambrosoli's involvement with the anarchist movement predated Anarchik. He dated it from 1962 at least, around the time of the scandal of the abduction of the Spanish vice-consul, Isu Elias. The abduction had been intended to prevent the execution of three Spanish activists and one of those involved was Ambrosoli's long-time friend Amedeo Bertolo. Ambrosoli moved to Turin that year. He credited Bertolo as co-creator of Anarchik.

In 1981 Ambrosoli "retired" Anarchik, which did not resurface until 2011 in A rivista anarchica, as before. "I was pretty fed up with drawing. Then again, I had run out of things for him to say. At the same time, my own activism had diminished a bit: for personal (rather than ideological) reasons and also because there was a bit of a crisis in terms of anarchist activism in Turin and elsewhere." Anarchik was revived and returned to A rivista anarchica at the suggestion of its editor, Paolo Finzi. Ambrosoli found it strange having to take up his pen after so long.

It was reported in the October 2019 edition of A rivista anarchica that Ambrosoli had suffered a retinal thrombosis, severely affecting his sight.

Asked if he would be returning to Anarchik, Ambrosoli told his interviewer "I cannot say for sure, but … perhaps … We shall see!"
[Image: Anarchik and the 'social pyramid' as used by Espace Noir, Switzerland. Taken from https://cartoliste.ficedl.info/article1303.html?lang=en]
Translated by: Paul Sharkey.