"And now, return to your homes". Spanish Republicans in the French Resistance (Y ahora, volved a vuestras casas. Republicanos españoles en la Resistencia francesa by Evelyn Mesquida: Ediciones B) [An interview]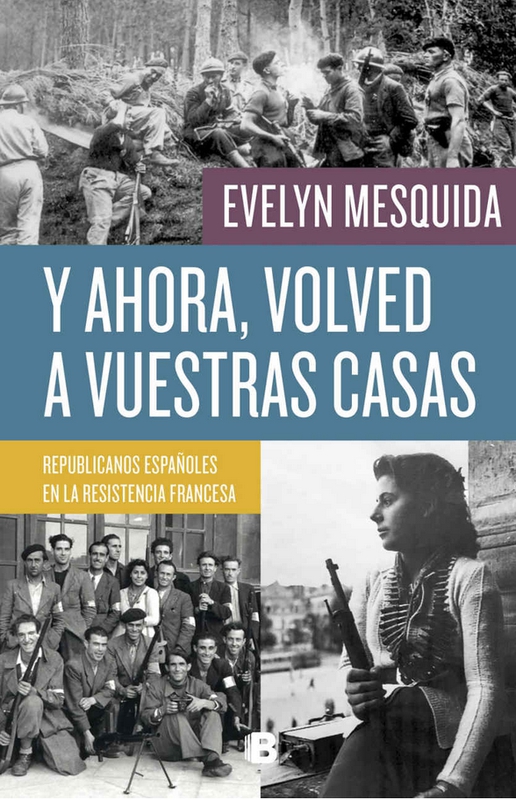 In a work of painstaking research, Evelyn Mesquida has been looking into the hundreds of Spanish republican veterans, male and female, who came to the defence of freedom through the French Resistance. A book that complements her last book, La Nueve. (Translated by Paul Sharkey)

Following publication of La Nueve, Evelyn Mesquida now offers us the heroic and tragic tale of those Spanish republicans who, following defeat in the Civil War, put up a stunning fight against the Nazi foe from within the French Resistance.

"Like the many Spaniards who served in the French army and fought in the Second World War, those refugees who took part in the French Resistance were also overlooked by the history books. But they were there." Since their arrival in France in 1939, most of them had had to live in barracks in concentration camps, huts in the labour camps, shacks and caves in the mountains and in the forests throughout the country. Which is where they were still living when, in September 1944, in an anxious and crass moment, General de Gaulle asked them to return to their homes, following the crucial battles they had fought.

The author, Evelyn Mesquida is a journalist and for many years the Paris correspondent of the magazine Tiempo. She spent a decade working on La Nueve, having interviewed many of the survivors and published several articles on the topic.

Cazarabet in Conversation with Evelyn Mesquida
Q. Evelyn, can we begin with an explanation of the reasons behind this investigation, setting out how you have constructed the book around the figures of Spanish republicans of both sexes who fought fascism in Europe and specifically the Nazis?

A. As we know, between January and late March 1939, upwards of half a million Spanish republicans who had spent two and a half years fighting four armies, those of Franco, Hitler, Mussolini and Salazar, entered France. Several thousand of those refugees were induced or freely decided themselves to join the French army, in order to escape the daily degradation suffered in the wretched camps into which they had been herded, opting instead to take up arms to carry on the fight against the Nazi foe. A lot of them admitted that they would rather go down fighting. At present, it is not possible to establish with certainty how many thousands of those men served in the French army but we do know that in the Second World War, Spanish refugees took part in every battle in which the French fought, from Norway to Libya Egypt, Palestine, Syria or Tunisia, to mention but a few.

The tens of thousands of refugees left in the concentration camps scattered across France were shortly after that drafted – under the formal threat of repatriation to Spain – into Foreign Labour Companies (CTEs) set up under an ordinance of the French government in April 1939.That ordinance made it mandatory for refugees to make themselves available to the French army as "non-combatant" troops under the supervision of the Ministry of Defence Upwards of five hundred 250-strong companies were formed. They were dispatched to do the most demanding work all over France. Many of these refugees would later be actively involved in the French Resistance. They all had the experience of the war in Spain under their belt. But like the men from La Nueve and many another who served in the army, the Spanish contribution to the French Resistance has gone unacknowledged even though, as Jorge Semprún said in his foreword to La Nueve, they numbered in the tens of thousands and played a leading role. Many of them lost their lives in the struggle … It has always struck me a very unfair that they should have been "forgotten".

Q. What has your research to say about the Spanish in exile in France who were participants in the fight against the Nazi occupation?

A. As a rule, historians who make any reference at all to the Spaniards have stressed that the refugees were involved in "assisting" the French Resistance, especially in the South of France. With his book I intend to show, as Antonio Vilanova, Pons Prades or Secundino Serrano, among others, have done before me, that the Spaniards fought throughout France, North, South, East and West, all over, and that on many occasions they led the way in instigating resistance to the Nazi foe. Among other things, I had the good fortune to be able to meet with several French survivors who fought in the Resistance alongside the Spaniards and who confirmed for me that it was the Spaniards, with the experiences they had behind them, who trained the young French in how to fight.

Q. Is it your intention to reclaim them and preserve the memories of each and every one of them?

A. Yes, I was out to reclaim them as well. It seems very unfair to me that so many of them have passed away, that there is no trace left of them (male and female) when they fought for so long in Spain and carried on the fight in France, asserting the very same values of freedom and when we are so deeply in their debt. Their lives were constantly on the line, they lived in wretched conditions and they did their bit in the fight to defeat the Nazis.

Q. Do we know for sure what number of Spanish men and women fought in the French Resistance, how they were "recruited" and how their cooperation started out?
No, as to numbers, we do not know … The historians have come up with widely varying figures, but as I have stated, no historian, no researcher has any really valid figures to offer, first, because you will find very little in the archives, and then also because the troubled nature of the times required that certain documents not be held on to and, of course, because many documents were destroyed, for a variety of reasons. That much I discovered earlier while working on La Nueve. The Foreign Labour Companies (later renamed the Foreign Labour Groups) included dozens of thousands of Spaniards and other nationals and had been dispatched all over France to do the work that had not been completed by the French who had been called up. Following the armistice, in May 1940, over a million and a half French were POWs in the hands of the Germans and were being held in Germany. At that point, France organized work for the Foreign Labour Groups. Thousands upon thousands were directed on to French farms, into large scale industries or assigned to work as forestry workers, coalminers or miners around the regions. Many others were forced to work directly for the Germans. In every case they were working in wretched conditions and the Spaniards began to join forces and unite in order to help one another. In many instances, their first contact with resistance came through the British. Others got in touch with the earliest French resistance movements set up in the southern zone, the area not under German occupation. That would entail contacts with networks close to General De Gaulle's Free France. Later, once the Germans had invaded Russia and Stalin had given the go-ahead for them to be fought, in June 1941, the communist rank-and-file were also mobilized and lots of Spaniards then joined them in order to fight the German occupiers.

Q. That early cooperation with and apprenticeship under the British at the outset proved crucial, did it not? How and in what respect?

A. The British had a clandestine set-up in the south of France. From there they closely monitored the war in Spain and , later, the Retirada, and next they came into contact with a number of Spanish refugees. Even then they could see the world war coming. When they declared war on Germany in September 1939, the British secret services sprang into action immediately and asked lots of refugees to work with them. Especially the socialists and libertarians, because Stalin had signed a compact with Hitler and communists were not to be trusted. Ponzán was one of the first people they contacted and his teams were involved up to their necks. Thanks to their collaboration, hundreds were rescued from the clutches of the Nazis and Francoists. Across France, the British were in touch with Spanish refugees throughout the German occupation. This triggered a split in the libertarian ranks as one faction criticized the other for working with the British after the latter had abandoned the Spanish Republic. As far as Ponzán was concerned at that stage, the essential thing was the fight against the Nazis and Franco. The times demanded it.

Q. How did they operate, what tasks did they carry out "adroitly and slickly"?

A. Given their experience in fighting in Spain, they knew how to raise small, highly mobile teams to carry out highly effective sabotage operations. Among the refugees there were some very good dynamiters and this was very important in the guerrilla war against the Germans. The dynamite they got from the mines and they employed it "adroitly and slickly" to much effect, in every region and mainly in the fight against the Nazi occupiers. They also took on Pétain's forces, but the preference there was to have the French deal with those.

Q. Maybe on account of its subtlety, my attention is drawn to the title you have given to your research .. "And now return to your homes." How did you come up with it or why did you give that title to it? It is, to say the least, shocking. Where were they supposed to go? What homes? Hours away, across that snow-capped mountain range … which they had crossed to save their own lives … homes from which they had been driven by a different brand of fascism, Francoism, that they had also fought and which regarded them as "dead men"?

A. That was the very thing that shocked me when I was interviewing Serge Ravanel who was the communist leader who had led the partisan forces in the Toulouse area, one of the men put in charge of welcoming General De Gaulle on his visit to the city of Toulouse on 17 September 1944; he told me what had happened. He was an eye-witness and was even reprimanded by the general. De Gaulle took umbrage at the Spaniards' parading past him wearing German helmets. He reacted like a soldier, overlooking the fact that these men were civilian combatants, many of them wearing sandals, and that their gesture was a signal of their delight a having beaten the German foe. Afterwards, once he had regained his composure, he amended his attitude and thanked them for having fought to free France and invited them to fight on as part of the new French army that was being formed and that any of them not wanting to do so could go home … I found this especially shocking because the homes of those men, ever since they had arrived in France, had been the concentration camps, huts in the work camps, shacks and caves in the mountains and forests across the country … The vast majority had no homes or could not go back to them, neither in France nor in Spain … That was what prompted my choice of title … A title that can be construed as a reproach.

Q. In France, right from the outset, not all of those men and women had encountered the same welcome: very many of them saw their republican ideals of liberty, equality and fraternity as having been "betrayed" … others , however, had a warmer welcome, right? Can you explain that for us?

A. For the majority of Spanish refugees, what they received from France by way of welcome was profoundly humiliating. A lot of them arrived believing that, as republicans, they could expect help from the French Republic … They were hugely let down. True, they were welcomed and defended by many people, but officially they were being received as the beaten side and almost as indigents. Nearly all the Spaniards reckoned that they had fought with dignity, having given their all to the fight for freedom and yet here they were, penned inside concentration camps, constantly humiliated, and looked upon – as Arthur Koestler wrote – as the "scum of the earth". A lot of the refugees carried that humiliation with them for life.

Q. France has had a nightmare being honest about the commitment of thousands of Spanish men and women who fought against fascism and against Nazism, a rather deplorable attitude coming from a country that prides itself and has on more than one occasion ventured to lecture the entire world on the republican values laid down by the homeland of the Marseillaise.

A. The French situation was also very complicated back then. In France there were lots of problems between the French themselves. A lot of them helped the Spaniards as much as they could, but there were other French people who accused them of all sorts of evil deeds, even turning them in on occasion. A lot of Spaniards have tried to erase that piece of shameful history by acknowledging that the other France enshrined essential values and was subsequently able to incorporate them into the French Republic. The Spaniards paid a very high price for assimilation and freedom.

Q. Please tell us a little about the investigative process … the highly demanding task of researching, the wide reading, getting things in order … Tell us, how long has this investigation taken you?

A. It has taken me many, many hours, days and months of hard graft and reading. I travelled to more than twenty French towns and cities. I have been collecting documents, photographs, the odd image …

Q. And what has it been like, collating all the material you have been amassing during your investigation and that, or, to put the question another way, having built it all up, what is your working methodology and how do you get everything into order?

A. The methodology is very straightforward: I have a big map of France spread out in front of me and little by little I trace the areas where they fought. I colour in the map. In each area I had the names of prominent groups and fighters. I secured some testimony from each area. And read everything I could find on those areas. I visited lots of towns and cities to interview people and consult archival materials. For instance, I even visited the forest where Ponzán was killed, retracing his footsteps. Interviewing folk from the nearest town. Roaming the vicinity. Consulting the archives. Likewise in Tulle. And in Périgueux and in the Dordogne. I was in Annecy and up in the nearby mountains, even the cemetery in Morette. And I went to Marseilles. I was close to the scene of the battle of La Madeleine and stood in front of the monument raised to it. I was in the Ariège and in Foix and in Col de Py where the 3rd Guerrilla Brigade was founded and I toured some villages with Commandant Robert. I was in Rouen and even went to the place where that snapshot was taken of María, the fighter featured on the cover of the book. And I went to other locations where the Spaniards fought, interviewing folk everywhere and visiting the combat zones … I would like to have gone to the Val d'Arán … just as I would other locations … but that was not feasible. What with the travel and the reading, the investigation has cost me six years' of effort.

Q. Back to the book itself: Francisco Ponzán and the resistance network alongside which he fought were especially important. It could be argued that he built it up around himself in order to fight fascism while in exile in France. What can you tell us about Ponzán? And his network? Keep it brief, as you could hardly do otherwise and that is in part what the book is all about …

A. The book opens with a chapter on Ponzán because his entry into the resistance started immediately after he arrived in France with the Retirada in 1939. He was one of the pioneers. The he got himself organized with what he used to refer to as "my tribe" and in concert with his sister, making incursions to fetch victims of persecution over the Pyrenees, making a mockery of border lines. His story is the story of a great fighter, the story of a brave and decent man. Aragon ought to have erected a special monument to him, since there was no way for him to be laid to rest in Aragon beside his mentor Ramón Acín as he would have wanted. Ponzán was a genuine freedom fighter.

Q. Just one of several things that cost him his life … Sticking to Ponzán himself, who was executed, just ahead of the ending of the Nazi occupation of France, what can you tell us?

A. I have done a lot of work on the Ponzán story, as I wanted to show that Ponzán was not killed by the Nazis, even if everyone who has written about his death says that he was. I have tried to show that, at that point, that was not a possibility. Let alone the ghastly way in which it was done. The Germans had enough to do looking after their own sins. Different folk, eager to draw a veil over their own years of connivance and collaboration, were the ones keenest to see the end of Ponzán. He had been in on the fight against the Nazis from the very outset, in concert with the British, at a time when others had been colluding with the Germans and determined not to fight them. A sad story.

Q. But with regard to his death and the deaths of many another, on that day and at that time, there is no certainty. Quite the opposite. What have you to say on the subject?

A. No, his death is anything but clear. Of course (to date) no direct, criminal evidence has surfaced and the people behind it left no trace of their identities and no signature, but there is other evidence to show that it could not possibly have been "real" Germans that did it.

Q. In exile as well as when fighting as part of the French resistance, was there not a degree of each person's setting his beliefs slightly to one side? Or were they clearer than ever as to who the enemy was that they were each facing and/or did they cling to their own beliefs? And even then, some sort of frictions had to emerge, right?

A. On the ground, in battle, most of them fought without caring which party or which political persuasion they belonged to. This is evident from the statements and autobiographies of many resistance members. But above them there were the leaders, the people who received and issued the orders, the ones who did not shrink even from hijacking the fighting efforts of others – in this instance, of the Spaniards. There were clashes when that occurred. A number of books tell of the score-settling on the eve of the Liberation and the clashes between the differing political factions.

Q. The Spanish men and women who resisted Nazism and fascism in France were well schooled when it came to fighting, in that they had just been standing up to fascism in Spain, but they were also weary after all the years of struggle, right? Are there indications of this, does it crop up in their "diary of struggle"?

A. This is why I so admire those men and women. They all took on the fight against Nazism as if it was the most natural thing in the world, because they had done it previously inside Spain and were clear as to who the enemy was. The vast majority of Spaniards saw the fight in France as the continuation of the fight they had begun in Spain. And the vast majority of them fought to the finish. And refused to carry on fighting elsewhere, in places like Indochina. They all said that that was not their war, that their fight was for freedom.

Q. And what did it mean for you to get acquainted with these women and men? Did you stumble upon anything that came as a surprise to you?

A. As in the case of the men from La Nueve, getting to know the resistance fighters of both sexes, learning their stories, discovering the tragedies they had been through and the straits and wretchedness that they had been through, proved very moving. Not one of them thought of him/herself as a hero and they all found what they had done "unremarkable" and stated that they had only done what they had to do; fight to defeat their enemies. The ones that survived were assimilating into day to day life and bringing to French life an integrity and moral outlook on the world that a lot of French people appreciated. I found this very life-enhancing work and I was constantly taken aback to find, as I progressed through it, at how these combatants had been so forgotten about when their part in the struggle had been so significant. I also was greatly surprised by how complicit the town of Tulle* has been in that silence. Given the very painful drama that it had lived through and faced with the choice, they have all plumped for silence … Yes, I was and still am taken aback by all this.

Q. And which knot have you found it hardest to untangle or understand?

A. The silence from Tulle, to be honest. I think that initially that memory of having had to make a choice and having 'helped' recount deaths in battle that were not the deaths of those who came to the city's defence, that wound may be especially raw and they chose to remain silent, and all these years later the memory of those men may come flooding back and they might tell us the truth about what went on. Lest those deaths be left to stand alone, as Albert Camus might say.

Q. Evelyn, you are a hard worker and might be described as one of the sort that never stops, but is there anything else you might to say to us or offer some clue as to what you are still looking into at this very moment?

A. Well, many of the men and women I have interviewed deserve a book of their own so that they might tell us of their individual lives; some of their life stories, the lives they led would have made great movies. Others I never got to know in person but the testimony I have managed to gather together have left me full of admiration for them. Because they did such wonderful things. I mean to have a go at working on one of these men.

Tulle
* On 9 June 1944, in Tulle, troops of the Das Reich division hanged a hundred people from balconies in the town. These were chosen from among the 3000+ arrested after several dozen German soldiers had been wiped out. The choice of who was to be hanged was made over that morning by the French authorities. It is my belief that they hanged those men who had no one to speak up for them. But I have not been able to get anyone in the town to talk. They have an official version and will not budge from it. All I have found is the testimony from the son of one Spaniards, but he knows nothing about what actually went on, other than that his father was one of the men hanged

The hanged men are known as the 99 martyrs of Tulle, hanged because they did not deserve a military execution as some were irregulars and resistance members. The Spaniard mentioned was an anarchist refugee, a member of the resistance. The viciousness displayed by the Das Reich was fairly standard for them. Having said that, resistance attacks on the Germans had also been pretty barbaric — shot down after surrendering, German ambulance burnt out with its occupants bound inside, German officers abducted by the resistance, etc.

The Tulle massacre came just before the Das Reich carried out the Oradour-sur-Glane atrocity in the same area.

Maximo Pastor's son – in his 80s – only found out about his father's fate when he started searching for info on the net. In 2013, he and his own son laid a wreath in Tulle for the Spanish republicans who fought in the FTP MOI resistance groups in the Correze department. In 2018 a French radio documentary was made about Maximo Pastor "From Alicante to Tulle".
From: https://christiebooks.co.uk/2020/04/and-now-return-to-your-homes-spanish-republicans-in-the-french-resistance-y-ahora-volved-a-vuestras-casas-republicanos-espanoles-en-la-resistencia-francesa-by-evelyn-mesquida-ediciones-b/. Translated by: Paul Sharkey.