Testimonial for Floreal Barbera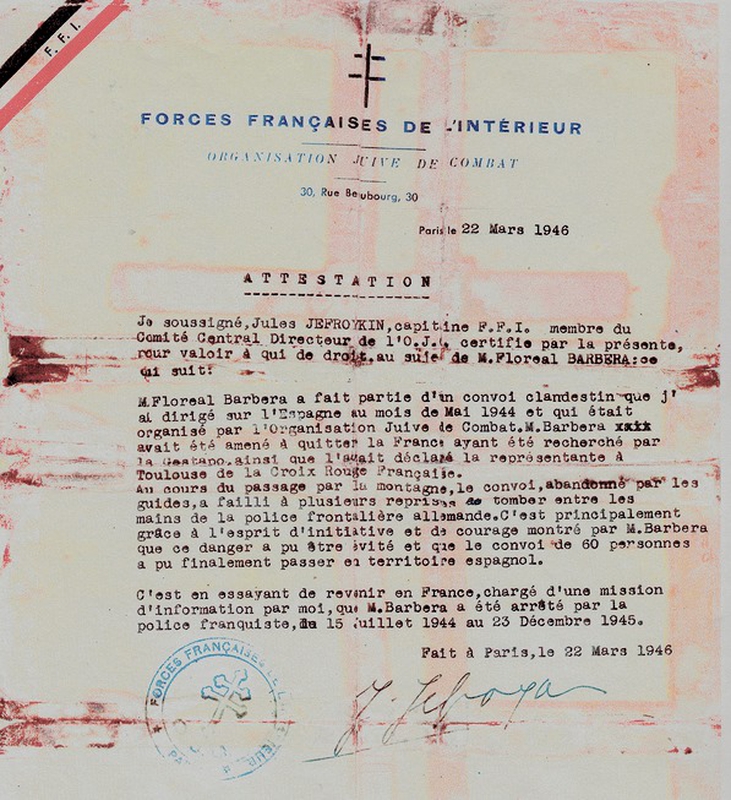 FRENCH FORCES OF THE INTERIOR [FFI]

JEWISH COMBAT ORGANIZATION [OJC]

30 rue Beaubourg, 30e

Paris, 22 March 1946

TESTIMONIAL

I, the undersigned Jules JEFROYKIN, a captain with the FFI, a member of the OJC Central Leadership Committee, hereby certify the following as he deserves, regarding M. Floreal BARBERA:

M. Floreal Barbera was part of a clandestine convoy that I led into Spain in May 1944, one organized by the Jewish Combat Organization. M. Barbera had been prompted to leave France, being wanted by the Gestapo, as stated by the Toulouse representative of the French Red Cross.

In the course of passage across the mountains, the convoy, having been abandoned by its guides, came, several times over, within an ace of falling into the clutches of the German border police. It was primarily thanks to the enterprising spirit and courage demonstrated by M. Barbera that that danger was averted and the 60-strong convoy eventually made it through to Spanish territory.

It was while attempting to return to France on an intelligence-gathering mission that I had entrusted to him that M. Barbera was arrested and held by the Francoist police from 15 July 1944 to 23 December 1945.

Declaration made in Paris on 22 March 1946.

FFI Seal & signature
[Taken from "In memoriam: Floreal Barberà, a life-time of freedom fighting" by Xavier Montanyà https://www.katesharpleylibrary.net/c5b1dz]

Translated by: Paul Sharkey.