Pepita Laguarda (1919-1936), the youngest female militian killed in action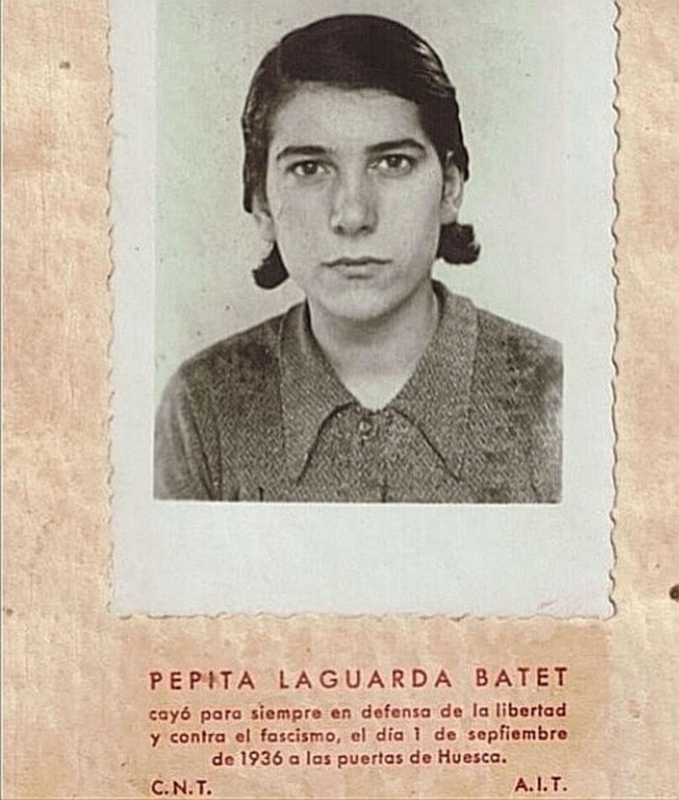 She ran away from home and, with her partner Juan López Carvajal, enlisted in the Ascaso Column, only to perish on the Huesca front on her first day in action

One has only to see the intelligent and determined glint in her eye and her resolute facial expression to understand that Pepita Laguarda Batet was a woman with a capacity for commitment, driven by a straightforward impulsive and radical turn of mind. When one face stands out from the thousands killed in a war like the civil war in Spain, one cannot help thinking about what her life might have been had she made it to old age and what our own times might have been; the same goes for her first love and comrade Juan López Carvajal.

But it was not to be. Pepita was killed during that very bloody summer of 1936 when so much hatred and so much vengefulness were converted by the weaponry of the golpista military into a savage nightmare. Luckily for this young Barcelona-based Aragonese woman, her body was not subjected to the rape-and-then-death practice customary when pent-up hatreds were unleashed, since Pepita Laguarda Batet was one of the militia women – possibly the youngest in the entire civil war – to perish on the front lines one September 1936 morning on the outskirts of Huesca.

Pepita lived in the working-class Santa Eulalia quarter of L'Hospitalet de Llobregat, southwest of Barcelona and there is every chance that she was active in the Libertarian Youth. According to an obituary carried in Solidaridad Obrera, she enlisted in the workers' militias in defiance of her family's wishes. Jaime Balius, who wrote the obituary on the basis of information supplied by Juan López Carvajal himself actually states that she 'ran away from home'. In the wake of the fighting on 20 July 1936 Pepita enlisted and told her boyfriend, 22 year-old fellow anarchist type-setter Juan López Carvajal, who did likewise.

They both signed on at the Bakunin barracks in Pedralbes with Group 45, in the 5th Centuria of the column named after the anarchist Francisco Ascaso; the column saw action on the Aragon front.

The Solidaridad Obrera obituary was headed "Our heroines" and underneath it read: "Comrade Pepita Laguarda Batet has met a heroic death just outside the city of Huesca." The text went on to praise the militia-woman's human qualities and bravery as well as the straightforward, hard-working approach that typified her. There was also a reference to her fighting spirit and her dexterity and competence in handling a rifle, quite possibly something that had to do with the formal way in which such death notices were written, as Pepita had scarcely had time to display any such aptitudes or "manly defiance of the foe."

According to the newspaper, Pepita had been fatally wounded at 5.00 a.m. on 1 September on the outskirts of Teruel in Aragon after having spent several hours fighting in the forward positions. "Her stricken body was taken by her comrades to the Red Cross post. From there it was on to the hospital in Vicién where she received urgent first aid and was then transferred to the field hospital in Grañén. All that medical science could do for her was done, but the gravity of her injury was beyond the care dispensed. She passed away at 9.30 a.m. that same day."

Jaime Balius used the information supplied by Juan López Carvajal to assert that Pepita remained proverbially lucid right to the end. Her death was hard felt by her comrades from No 5 Centuria of the Ascaso Column, of which she had been "on account of her light-hearted and kindly nature, the life and soul". Lots of her comrades and the whole of Grañén filed past her corpse. "The coffin was draped in the red-and-black flag and lots of wreaths were laid on top to bring some beauty to the sad but sublime end of the 17 year-old girl who had so generously given up her life in the vicinity of the city of Huesca."

The obituary closed by stating that Juan López Carvajal was in the General Hospital in Catalonia. "His life" – her heartbroken comrade told us – "has but one goal. To fight to the death on behalf of the social revolution. And in fighting for the proletariat, he will avenge the comrade who died for the working class's redemption. Once again" – the death notice concluded – "our female comrades have set us the example. All praise to the women braving the enemy's bullets."

Two months after the news appeared in the CNT's newspaper (on 13 September) and in El Sol, came the postcard with Pepita's portrait that Juan López had sent to her brother Pedro Laguarda Batet on 13 November, informing him of the militiawoman's death: "Most heartfelt greetings from one who shares with you in the pain of the irreparable loss of a beloved being. Huesca Front." Pepita's brother was to pass away in Barcelona at an advanced age in 2015.

Juan López Carvajal fought on right up until the end of the civil war. He was one of the hundreds of thousands of republicans who left for exile in the wake of defeat. This we know thanks to his autobiography Memorias de mi vida (Memorias de un trabajador anarcosindicalista en la España de siglo XX) written in French in 1995 and from the testimony of his son Helios Gómez Gásquez. Those memoirs contain very few references to Pepita Laguarda, the woman who, back in 1935, when Juan López moved away to Palma in Majorca to do his military service, went with his father to wave him off from the dockside in Barcelona.

His return to the city on leave in July 1936 coincided with the military coup attempt and he and his girlfriend signed on with the Francisco Ascaso Column, very much contrary to what the young couple had had in mind for that summer. They both set off from the Estación del Norte in Barcelona for Lérida by train – as Juan tells it – and from there on to Monzón. Juan López never got to see action on the Aragon front due to a stomach infection that forced him to seek medical attention. The author places these events in and around early September 1936. "Pepita" – he writes – "headed for the front lines in an armoured car. The attack on Huesca began at daybreak and by mid-morning the first ambulance showed up with the first casualty: Pepita Laguarda."

"The bullet" – we read in Juan's memoirs – "had struck her in the upper back and she complained of stomach pains. She was immediately removed to Grañén where the doctor stated that she had lost a lot of blood and was in need of a transfusion. I volunteered to donate. But by then it was too late and she passed away within minutes. After the funeral I was evacuated to the San Pablo hospital in Barcelona." Juan admits that after they had arrived on the Huesca front and unbeknownst to Pepita he had written to her parents telling them to get a telegram off to the column commander saying that her father was seriously ill, so that Pepita could go back to Hospitalet, but no such telegram came. There is no further reference in Juan's memoirs to Pepita; Juan López later rose to the rank of lieutenant and took part in the battle of the Ebro.

Juan López Carvajal was born in Almería province in 1911, but his parents had shortly after that relocated to Barcelona in search of a better life. Not that that life was initially much better because, as his son Helios López recalls it, the family was living in a cave and without water, went barefoot, never tasted milk and warmed themselves using firewood. For a number of years Juan attended a school in Pueblo Nuevo and at the age of eleven started work in a printing works, following his mother's death in 1923 from uterine gangrene, after she had given birth to his brother Félix. Juan went on to become a printing worker and CNT member and always showed great interest in cultural matters as part of the 'Faros' association and the Libertarian Youth, which is probably where he got to know Pepita.

Helios wrote: "In 1936 you threw yourself into the fight against fascism and for the social revolution, that tremendous hope dear to the working class. You became an officer of the Republic, without renouncing your belief in solidarity. Your sister Ana lost her husband during the fascist air raids on Barcelona and had to brave the awful post-war years with three children. In exile, you sampled the delights of hospitality on the beaches of France [a sarcastic reference to the concentration camps there], sharing a 2-kilo loaf per 25 people."

Juan López's son then went on to mention his family life: his own mother, Josephine Gásquez, meeting up with Juan's cousins, first in Tours and later in Paris, where Orchidée was born (only to die at a few months old). After Helios's own birth, the couple sailed for Buenos Aires where they were to spend the early 1950s and where Aurore was born in 1951. At the instigation of Juan's sister Ana, the family returned to Barcelona in 1955, only for Juan to be arrested and obliged to perform a period of military service during which Montserrat was born. Later they returned to France where the couple had their last child, François-Xavier, Juan keeping up his connections with his CNT friends throughout. It was in France that Juan began writing his autobiography, with its meagre mention of Pepita, and where he died.

According to his oldest son, Juan López Carvajal found great consolation for the awful dashing of his dreams of 1936 in building up a large, united family. Helios closed by thanking his father for "everything that you have bequeathed me, with a brave, wonderful wife by your side, especially your values of solidarity, mutual aid and love." This text was read out, in French, during a little farewell ceremony held in Lyon on 29 December 2011, before his father's body was handed over to science, in accordance with his own expressed wishes and those of his wife who had passed away some years before.

Some time after that, Helios Gómez made contact with Manresa-based Ramón Ignasi Redondo Laguarda, whose great-aunt was Pepita Laguarda Batet. He may well have sought that contact because, aside from those few lines in his father's published memoirs, Pepita loomed much larger in the personal and family feelings and recollections of Luis Gómez Carvajal. Regarding the meeting, I think it might be apposite to quote a few lines from the poem Primer amor (First Love) by Carmen Conde:

"You, ashes some day? Ashes this craziness that you parade with life fresh sprouted in this world? You are never-ending, you will never burn out! Here you hold the light that encompasses everything, setting the heavens ablaze to bring the earth closer to them"

Félix Población

in El Salto, 11 March 2020 https://www.elsaltodiario.com/los-nombres-de-la-memoria/pepita-laguarda-(1919-1936)-la-mas-joven-miliciana-muerta-en-combate
Translated by: Paul Sharkey.